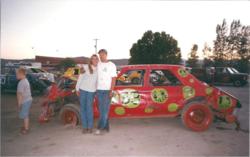 Winning and having people telling me I hit the hardest is the icing on the cake but what really inspires me is to see my kids cheering for the mom who is more than just the grumpy mom who has them do chores, Katy Sweat.
Heber, UT (PRWEB) January 31, 2013
Katy Sweat the mother of five kids, is also one of the most feared woman drivers in demolition derby motorsport. Katy is rapidly garnering fame for her fearless and mean demolition derby driving reputation in a motorsport traditionally reserved for men.Katy Sweat, was introduced to the sport by her husband, well-known derby driver Ryan Sweat, and they share the dangerous hobby of demolition derby racing.
Katy Sweat spends most of her time focused on supporting her family. She works full time, helps her husband run their 40 acre ranch, and nurtures her household of active kids. But what started out as a hobby and stress release has turned into a passion which has her labeled as fearless and mean in sport with the objective of smash or be smashed. National media have taken notice and she has received several requests for interviews which focus on her love of driving.
"I love competition and I want to win but that it is not what inspires me," said Katy Sweat. "Winning and having people telling me I hit the hardest and they stay for the Powder Puff races is the icing on the cake so to speak, but what really inspires me is to see my kids cheering for the mom that is more than just the grumpy mom who bosses them about their grades and chores. I hope that they can see I am also a person that has interests and passion! I want them to know that working hard at what you love really pays off. It doesn't really feel like it when I am in the middle of all the wreckage but later when I look back I can see that I am doing the right thing and it is all worth it!"
Katy's interest in demolition derbies started with wanting to spend more time with her husband, a full-time contractor and part-time rancher, who spent his free time working on demo cars out in the garage. Katy soon learned about preparing a derby car and drove in her first race at the Coleville County Fair Powder Puff for Women race in 2002 and won!
Her husband, Ryan Sweat says that once Katy acquired a thirst for the sport she went out and got her own demolition car and has been driving in demolition derbies ever since. Demolition cars are typically named by the drivers who build them and Katy named hers "Heap-o-Trouble". Katy and Ryan Sweat fit in the time to drive in three shows every season between their full time jobs and the children's busy schedules which include competitive softball, basketball, 4 H fairs and league baseball.
Katy is part of the team of Sweat Demo Derby Drivers that includes Ryan Sweat and his brother Mont Sweat, known as the Sweat Brothers, TJ and Gumby the Stormin' Mormon. As a team they drive for prize money that hardly covers the cost of repairing their demolition cars from event to event as they travel to spots around Utah each summer. Demolition derbies first held at various fairs and race tracks and speedways by independent promoters in the 1950's, waned in popularity in the 1970's and have regained world popularity over the last few years among motorsport fans. There are estimated to be at least 2,000 demolition derbies every year in the United States alone.
In demolition derbies the car is stripped of fixtures, lights and glass and numbered. Drivers wearing at least a seat belt and a helmet race in heats that require them to hit another car every 2 minutes. The last running car that makes contact with another driver wins.
Katy is excited is looking forward to the upcoming season on Demolition Derby races and what the increased national exposure will mean for her and the Sweat Demo Derby Drivers yet she is also looking forward to her kids athletic events which will take her to baseball games around the state.
"I love spending time with my family and watching them play sports but now I also have a chance to enjoy a hobby my husband and I both love. But Driving is the only place I get to be mean . . . so I take advantage of it . . . they say some people won't drive with me because I am so tough. It is true, I love to see fear in their eyes before I hit them. I can't wait for them to hit me because it means game on! The dangerous part is that their 'happy tappy' hits are nothing compared to my hits to them. Bring in the extraction team girls because you've been hit by Team Sweat!"