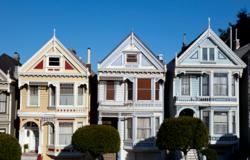 Many people believe that Renter's Insurance is too expensive, but, in San Francisco, I've protected my customers for as low as $14 a month and as high as approximately $100 a month
San Francisco, CA (PRWEB) January 31, 2013
According to the National 2012 Insurance Information Institute Poll conducted by ORC International 96% of homeowners have active insurance policies but only 31% of renters have active renters insurance policies. This shows that many renters are not taking the appropriate steps to insure their belongings and themselves from physical and financial losses. And, in San Francisco where rents are sky high, it is that much more important to ensure you have proper coverage. Especially when the actions of your roommates, house guests, and even pets can affect your living situation. Renter's insurance can protect you from some of these actions; replace stolen items from your home and car; pay for living expenses in the event of a fire; and, even medical expenses if someone were to be hurt in your home. Money that would otherwise come out of pocket.
"It's important as an Insurance Agent to educate your customers and neighbors about the risks that can be mitigated by coverage we offer. Many people believe that Renter's Insurance is too expensive, but, in San Francisco, I've protected my customers for as low as $14 a month and as high as approximately $100 a month; however, the California state renters insurance premium average is about $213/year." says Scanlon. "Compared to the cost of your belongings and the risk of future earnings lost, this is a very minimal amount."
To learn more or get a quote contact Christen directly at 415.665.7701. Christen Scanlon of Scanlon & Associates has been an agency owner/agent in San Francisco for a year and half. She specializes in, Renters, Auto, Condo, Homeowners, and Commercial insurance. Scanlon and Associates is located at 801 Lincoln Way, San Francisco, CA and can be reached at 415.665.7701.
*The above prices vary by location and insurance needs; and, statements are subject to policy terms and conditions*