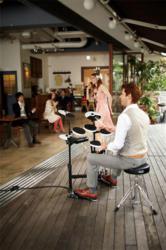 New Berlin,WI (PRWEB) January 31, 2013
The 2013 NAMM Show at the Anaheim Convention Center, January 24 - 27, combined four days of business, education, music and celebrities along with the majority of new musical product announcements. Cascio Interstate Music's team of buyers was there to explore the new products, and coordinate plans with vendors for the new year.
Available now at Cascio Interstate Music, Taylor Guitars unveiled a brand new body shape at the NAMM Show, the Grand Orchestra, the fifth body shape released in Taylor's history. This new body shape boasts Taylor's boldest, richest voice, one that blends low-end power with surprising balance and responsiveness for a big guitar. This modern big-bodied guitar is available in three ultra-limited batches of First Edition models: the 518e, 618e and 918e. 518e features a back and sides of solid mahogany, a solid Sitka spruce top and bracing, and is accented by the "Deco Diamonds" inlay; the 618e boasts a back and sides of solid, AA-grade Big Leaf maple, a solid Sitka spruce top, Adirondack bracing, and the "Twisted Oval" inlay scheme; and the 918e incorporates solid AA-grade Indian rosewood back and sides, a solid Sitka spruce top, Adirondack bracing, and the popular "Cindy" inlay design.
Also new for guitarists, Roland's Cube Lite Guitar Combo Amplifier is a stylish compact guitar amp for home living spaces, having a built-in iOS interface to let musicians play and record at home, along with their iPhone, iPad, or iPod touch. It has a great-sounding 2.1 channel audio system with stereo speakers and subwoofer, and comes in the colors black, white, or red.
Cascio Intersate will also be carrying new acoustic guitars from Takamine, a company with over 50 years of history dedicated to innovation and improvement to the art and craft of guitar making.
Roland Corporation introduced new keyboards including the RD-64 Digital Piano, with grand piano sound and touch in a compact instrument of 64 notes, featuring a true weighed-action playing feel, 12 tones including organ and clav sounds, and can be used as a controller in a home studio or with an iPad.
Roland's new TD-4KP V-Drums Portable is the ultimate electronic drum kit for mobile drumming and small spaces, featuring their popular V-Drums sound and quality, an innovative folding design for easy transport and storage, and eight pads total: kick, snare, toms x3, hi-hat, crash and ride cymbals; plus the FD-8 Hi-Hat Controller included.
Cascio Interstate will once again carry KAT electronic drum products from Alternate Mode, available soon.
Mapex Drums introduced its newest snare drum, the Black Panther 13" x 6" Nomad Brass Shell Snare Drum. The Nomad was developed by the Mapex team in conjunction with legendary artist Will Calhoun. The brass shell snare is warm, open, sensitive and features a traditional 45 degree bearing edge. The Black Widow 5-piece Drum Kit was also introduced, with Mapex's research and development team taking traditional thin 5.1mm Maple shells and combining them with a centered bearing edge with rounded back-cut to produce a classic balance of attack, body, and warmth. The kit includes 22"x18" Virgin bass drum, with 10" and 12" rack toms and 14" and 16" floor toms. Mapex has also reintroduced its new Saturn IV series of professional drums.
Cascio now carries the 2013 Sabian Cymbal Vote winning cymbals, models that were voted on by drummers all around the world last September and October. Sabian is the first major music manufacturer to allow its customers to choose their annual product offering. The winners are the AAX Air Splash that includes holes for extra punch, available in 8" and 10" in both natural and brilliant finishes; AAX X-Plosion Hats in 14" and 16" brilliant; AA Bash Ride in 21" and 24" in both natural and brilliant; and the AAX Freq Crash in 18" with natural finish.
Look for additional new products for drummers coming soon to Cascio Interstate: Pearl's reintroduction of their famous Export Series Drum Sets; DW's new design series; Ludwig's revamped Keystone Series and the new Yamaha Live Custom Oak Series of Professional Drums.
In the area of wind instruments, Theo Wanne has introduced the Mantra Tenor Saxophone, using the highest technology in the industry and integrating over 30 innovations and features, with a neck design that is totally free to resonate. Bach has introduced its LR19043B Stradivarius Trumpet, available in both lacquer and silver-plated, Innovations in bell and two-piece valve casing make the new model stand out, and these trumpets exude versatile expressive sound, open feel and quick response.
Cascio Interstate Music is among the nation's top independent musical instrument retailers, and is the 12th largest musical instrument dealer in the United States. Cascio celebrated 66 years as a music retailer in 2012, and is headquartered in New Berlin in suburban Milwaukee, Wisconsin, which houses its call center, web center and corporate offices. Its distribution center in Waukesha, Wisconsin handles over 60,000 items, including consumer electronics items, available online only. More information on the Company is available on their website.