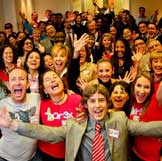 If you embrace the concept of pay it forward then its only a matter of time before you receive much more back
(PRWEB) January 31, 2013
Your Office Agent's Nina Steiner says the seed for the event was born from the film Pay It Forward starring Kevin Spacey and Helen Hunt. "You'll remember the movie introduced the concept that helping others selflessly would lead to positive unseen consequences that arise from such noble acts?" asks Steiner. "Well, this mindset became obvious when Your Office Agent arranged the first event in December 2012 and 300 companies flocked to Pay It Forward for Business in an unforgettable evening – The objective was to galvanize a community to help their fellow businesses simply because it's the right thing to do and now it's time to do it again but only bigger and better"
Responsible for securing the space for the event is Barbara Sprenger of Satellite Telework Centers. "We're clearing out a shopping mall in Santa Monica on February 20," Sprenger adds, "to facilitate our effort to help more than 600 small businesses – it will be the largest Pay It Forward For Business event in the state, and possibly the whole country!"
Steiner's business associate Brian MacMahon provides an overview of what participants might expect on February 20. Venture Capitalists, Angels and High Tech pros will share their knowledge and business saavy with participants in seminars produced by Zahava Stroud of Angel Launch. Surprise guest speakers will share their special stories of how they paid it forward in business.
Attending businesses will run the gamut from the largest American firms to small start-ups boasting a staff of one. Starbucks, Bird Pick and Transamerica are sending representatives, as well as a host of other companies both national and local in scale. The event is open to any business person regardless of how large or small the person's company is.
MacMahon says the event is being promoted by the Your Office Agent and Pay It Forward For Business organization because they believe in this concept as the only true way forward for businesses to grow. He wants to really drive home to local businesses that by paying it forward, there is a financial return, as well as an emotional one. MacMahon and Sprenger both believe the DNA of their companies are community-giving based. Over $50,000 worth of gifts were offered at the first event and more is expected this time around.
Your Office Agent have kicked off the Pay it Forward for Business concept by offering a free office for a day to anyone who comes and that offer is for any city in the world. That's a pretty good start.
Tickets and information are available by clicking here: http://www.yourofficeagent.com/pay-forward-business.php
More information may be found at Facebook here:http://www.facebook.com/pages/Payitforwardforbusiness/479258212112997?ref=hl
Location: 3110 Main Street -- The Annex in Santa Monica, CA 90405
Time: 3:00-9:00pm
Parking: numerous options for parking in the local area both metered and public parking lots
For more info: call Nina or Brian at 800-600-0881 or contact(at)yourofficeagent(dot)com