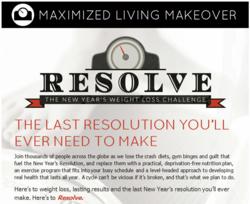 "Caregiver Services, Caring for Life"
Thousand Oaks, California (PRWEB) January 31, 2013
Dr. David Diehl of Maximized Life Chiropractic will host "RESOLVE: The New Year's Weight Loss Challenge," a Maximized Living Makeover event on Feb. 2, 2013 This event will share the latest research behind healthful weight loss, so you can establish—and maintain—a proper weight.
This event offers a 30-day weight loss challenge, but it is not about body image. Rather, the goal is to reestablish the proper function of the human body. In its ideal state, the body regulates all processes and hormones efficiently. Everyday factors like poor nutrition, inactivity, mental stress and even poor posture interfere with the body's capacity to function.
At the Make Over event, Dr. Diehl will address a few simple concepts that will help people of all ages restore proper hormone function and manage weight naturally:

How common food sources inhibit the function of leptin, the weight-loss hormone. - Why traditional cardiovascular exercise encourages overeating and the storage of fat. - How reparable irregularities in the nervous system can interfere with thyroid function. - Why low-fat and non-fat foods cause steady weight gain. - How sugar damages the function of insulin and the immune system.
" The word 'resolution ' actually means 'fixed purpose .' Yet, with nearly all New Year's resolutions ending around January 3rd, clearly these resolutions are far from fixed, " said Dr. Ben Lerner, co- founder of Maximized Living . " That's why we created a program that will bring about a revolution. This event is designed to be truly transformational. "
" This event is designed to empower individuals to start the New Year with hope and a plan for building their health . " -Dr. David Diehl
The Resolve event starts at 10am and will be held at: Grant R. Brimhall Library in the Marvin Smith Community Rm. 1401 E. Janss Rd. Thousand Oaks, CA 91392.
For additional information, contact: Maximized Life Chiropractic at # 805-396-1000 or email at info@MaxLifeChiro.com.
Caregiver Services and Home Care Inc. http://www.mycaregiverservices Director for Business Development Randy Clarito supports Dr. David Diehl's program in providing a better and healthy lifestyle. The 2 companies collaborated in a 'Continuing Health Education Program' lecture held at Malibu Senior Center last year with interesting topic on "The Power of Health and Wealth", also participated by a respectable Financial Planner and Wealth Management expert Marcus Silverberg, owner of Silverberg Wealth Management Company.