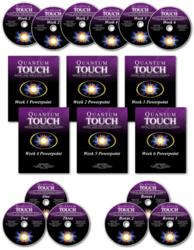 "Everyone can learn to see and perceive the subtle energies of life. I'm happy to guide those who want to hone their own natural abilities in this exciting technique,"
Santa Monica, CA (PRWEB) January 31, 2013
Quantum-Touch Inc.'s "Seeing and Perceiving Energy" webinar drew more than 4,100 enrollee's last fall. Now, a master class designed to take participants into exciting new realms is being offered at a discounted rate.
The six-week series will be guided by Deborah Deeya Gair, an advanced level worldwide instructor. Gair will help participants stretch and dissolve boundaries by discovering the expansive limitlessness of their sentient natures.
"Everyone can learn to see and perceive the subtle energies of life. I'm happy to guide those who want to hone their own natural abilities in this exciting technique," Gair said.
Gair, a gifted instructor with 10 years' experience, will lead participants in guided exercises each week.
Participants will learn:

Techniques to energize, quicken, concentrate and enhance the life force energy.
Meditations designed to delve into their boundless, limitless potential.
Explorations to expand and heighten awareness of deeper levels of consciousness.
Progressive exploration of innate spiritual gifts.
Attaining connection and greater unity with self.
Each week, the class will be developed organically based on the participant's individual and the group's requirements. Participants will receive specific information and exercises that will help them progress in the deepening and widening of their seeing and perceiving paths. A "homework" lesson will provide focus for the week.
The workshop dates are as follows:

July 23, 2013 from 2- 3 p.m.
July 30, 2013 from 2- 3 p.m.
August 6, 2013 from 2- 3 p.m.
August 13, 2013 from 2- 3 p.m.
August 20, 2013 from 2- 3 p.m.
August 27, 2013 from 2- 3 p.m.
All times are Pacific Standard Time.
Participants can take part either during the live webinar or at their own convenience using a recorded version. The cost for the online webinar is $147, discounted from the regular price of $297.
To enroll, participants must have either watched or participated in Gair's or Alain Herriott's "Seeing and Perceiving" in the past.
For more information or to register for the online workshop, please click here.
ABOUT QUANTUM-TOUCH, INC.
Quantum-Touch, Inc. educates people about a natural healing method that uses the human body's "life force energy." The method can bring about both mental and physical wellness. Called "Chi" by the Chinese and "Prana" in Sanskrit, the Life Force Energy sustains life in all living beings. The techniques taught by Quantum-Touch are simple but highly effective. These techniques are intended to provide complete wellness to people. For more information, please visit http://www.quantumtouch.com.