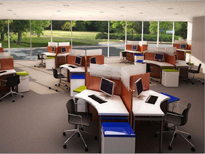 We are the undisputed experts in the flexible space industry and thats why space providers and space users like us.
(PRWEB) January 31, 2013
Your Office Agent are already well known globally for being the experts in the flexible space arena. With an online database of over 3,000 executive suites and coworking spaces globally the company help space seekers and space providers alike so all parties can achieve their business goals. With the success of their current offering, a new solution has just been launched called the Profit Plus Plan. This product is aimed at experienced and new flexible space providers alike and has a proven methodology and model to increase a Providers profit by at least 10% by a combination of an internal and external focus. The internal Plan is executed by a proprietary model of analyzing costs, increasing enquiries, improving processes, increasing product offering and overcoming personnel challenges. The External plan, in partnership with Coldwell Banker, helps space providers expand, find new space, dispose of unwanted space and convert space types with the advantage of doing this with a company who know the industry needs rather than a traditional basic brokerage. Your Office Agent work with Providers to solve these issues by following a proven plan inclusive of business plan evaluation and modification, website evaluation and modification, SEO enhancement and social media implementation and management.
Brian Mac Mahon, the CEO of Your Office Agent added that, with 12 years experience, he and his team have successfully created, developed and managed, on all levels, executive office centers. They have experienced the pitfalls and difficulties owners face and have successfully solved and overcome these pitfalls. Brian added that owners are oftentimes too close to the business or don't have the experience to face these problems alone. In addition most brokers who currently find space just don't understand this industry and their space choices and lack of follow up after the lease is signed are just not the service that the executive suite and coworking providers deserve. The new product offering from Your Office Agent readdresses the balance.
For any help or further advice contact Brian and his team for a free no cost analysis on contact(at)yourofficeagent(dot)com or 800 600 0881.