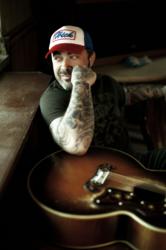 "He injects a flavor of his own into a polished, commercial country sound in a way that could win over country fans who've never heard of Staind (2/28/11)."
Napa, CA (PRWEB) January 31, 2013
"Life is circular. Country just came back to me. It's like the acoustic thing. I did that before the band [Staind]. This is full circle because this was the first music I was ever exposed to as a child." --AARON LEWIS.
If you want to get to know lead singer of Staind Aarson Lewis, just listen to The Road. On his first full-length album, the Grammy Award-nominated, multi-platinum singer, songwriter, and guitarist tells one story after another. Echoing traditional country, some of those tales are hilarious and heartwarming, while others are pensive and personal. Nevertheless, they're all equally powerful, vibrant, and unforgettable. For Lewis, The Road continues to wind and surprise like it always has.
In 2011, the Staind frontman formally arrived in the country world with the release of his debut EP, Town Line. Highlighted by the success of gold-selling single "Country Boy" featuring the legendary George Jones and Charlie Daniels, the seven-song EP reached #1 on the Billboard Country Albums Chart and #7 on the Billboard Top 200 upon release. Critical praise followed: PEOPLE's Chuck Arnold said, "He proves to be a natural on nostalgic ballads like 'The Story Never Ends,' (3/14/11)," while the ASSOCIATED PRESS' Michael McCall wrote, "He injects a flavor of his own into a polished, commercial country sound in a way that could win over country fans who've never heard of Staind (2/28/11)."
Tickets for Aaron Lewis are $40. They are on sale now and can be purchased through the theatre website at http://www.uptowntheatrenapa.com, at Ticketmaster (http://www.ticketmaster.com) or at the theatre box office (please call 707.259.0123 ext. 6 for hours). To find out more, please visit http://www.uptowntheatrenapa.com.
The Uptown Theatre Napa is downtown's ultimate destination for live concerts. Nestled in the famed West End district, this stunningly restored art deco masterpiece showcases only the finest acts, featuring music, comedy and more. An historic landmark, the Uptown offers a phenomenal, intimate live show experience, with excellent site lines and world class sound and lighting. As concert venues go, this is the place to be. Every seat is a great seat so buy concert tickets now!