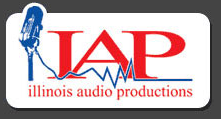 In 2013, it is more important than ever to offer messages-on-hold for customers.
Piano, IL (PRWEB) January 31, 2013
In 2013, many businesses are renewing their commitment to serving even more satisfied customers. Illinois Audio Productions can assist businesses by providing them with voice overs for any application service.
Illinois Audio Productions have created professional voice overs for radio commercials, TV commercials, music on hold, message on hold, voice prompts, overhead announcements in museums, stores and casinos, CBT narration and e-learning for training employees, podcasts, parade voice overs, voice overs for half time shows and much more. Illinois Audio Productions continues to create innovative voice overs. Voice overs are also extremely useful for messages on hold.
Illinois Audio Productions will be able to voice over and record your on hold script. By working with the professionals, specialists will be able to combine your messages with a choice of on hold music. By choosing Illinois Audio Productions, you will get professionally voice and professional sounding for your on hold audio,
In 2008, when the economy took a dive, many operations were forced to cut expenses and had to cancel their MOH services. In 2013, it is more important than ever to offer a customized option for customers.
By committing to building a solid foundation Illinois Audio Productions aims to match businesses with the right MOH program at the right price. Once they have determined the program best suited for a business, Illinois Audio Productions will work with clients to develop a plan for music, voice overs, and how far apart to space messages based on the time callers are on hold.
As a leader in the MOH field, Illinois Audio Productions understands that businesses have a limited budget for MOH services, but acknowledges the need for it. Illinois Audio Productions has released a list of different businesses that should have MOH services:

Banks/Credit Unions: 4-6 productions per year
Car Dealers/Auto Shops: 4-12 productions per year
Insurance Agencies: 1-2 productions per year
Real Estate Agencies & Title Companies: 1-2 productions per year
Manufacturers: 1-2 productions per year
Restaurants, Pizza Places: 4-12 productions per year
Salons: 4-12 productions per year
Travel Agencies: 2-6 productions per year
Medical Facilities (Doctors, Dentists, Clinics): 1-2 productions per year
In 2013, businesses should take the leap and make Illinois Audio Productions their company for voice overs especially for MOH services. This is an invaluable service that can bring great value to any company in any industry.
About Illinois Audio Productions
Illinois Audio Productions, Inc is a family operated business. Boasting a voice talent pool of more than 21 American Voices, 3 Spanish Voices, 4 British Voices, a French voice, a Brazilian voice, 2 Chinese voices…plus access to many other foreign and character voices. Our recordings can be heard as close in town here in Plano, Illinois to as far away as Grenada, West Indies. Our digital player offerings include IP based networkable players, Mp3 download, Cd and many more. Not long after clients began enjoying the quality of our voices and high level of customer service, they have turned to us to produce their radio commercials, voicemail prompts, e-learning & cbt narrations and much more. Learn more about Illinois Audio Productions by contacting them at 630-552-9600.