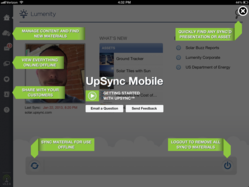 "Consistently positive user experiences are key to increasing adoption rates among field sales reps and to the overall success of a mobile initiative."
-- Severan Johnson, UpSync Sr. VP, Sales
Boulder, CO (PRWEB) January 31, 2013
Today, UpSync released version 3.2 of its mobile and web SaaS sales enablement solution. With this release, UpSync now features contextual help, faster sync times and printable presentations. These enhancements are designed to improve overall user experience and boost user adoption rates.
Contextual help provides UpSync users with tooltips and quick reminders of how to use a feature in the moment. When users touch help, "bubbles" appear next to interface elements on every screen.
"While UpSync is highly intuitive, we understand that there is a continuum in users' comfort level with new technology," said UpSync's Director of Product Development, Matt Vander Vliet. "Our goal is to make UpSync as easy as possible for every user, especially those who may be new to the iOS interface conventions," he continued.
"Consistently positive user experiences are key to increasing adoption rates among field sales reps and to the overall success of a mobile initiative," noted UpSync Senior Vice President of Sales, Severan Johnson. "At UpSync, we take a user-centered approach to both our web and mobile design."
UpSync v3.2 now allows presentations to be printed from both web and mobile devices.
The print view provides a thumbnail of each slide or asset, as well as an area for entering notes. Reps can access the print button from within a presentation or in the UpSync Content Viewer list mode.
In the new release, UpSync has also dramatically increased sync speed. By implementing a multi-thread download, several files can synced to a mobile device at once, rather than in a linear mode. This improvement saves time spent syncing data and assets, affording reps more time to spend on critical sales functions.
About UpSync
Boulder based UpSync™ offers businesses with mobile sales professionals an efficient means of managing, accessing and distributing their content and business applications to any mobile device.
The company's cloud-based solution was developed to simplify access to mission-critical sales materials and integrate data-driven applications, regardless of device or connectivity. UpSync offers a free trial version of the software.