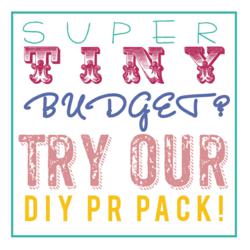 New York, NY (PRWEB) January 31, 2013
Small business public relations firm Pesce PR is now offering its DIY PR Pack to Canadian small business owners. The DIY PR Pack provides entrepreneurs with a customized plan that includes all the tools needed to secure press including a PR strategy, press release, pitch note, media target list, and a "how to" consultation. The DIY PR Pack is 100 percent individually tailored for each business.
Thea Zagata, the company's founder, came up with the idea after she left the PR world and launched (and later sold) an online cookie company. Given the success of her cookie company was primarily driven by her public relations efforts, she realized that other like-minded and budget-strapped entrepreneurs could significantly benefit from her combined PR and small business experience.
"Through recent projects, we've had the opportunity to familiarize ourselves with the Canadian media so we thought it was a perfect opportunity to give Canadian small business owners an affordable public relations option," said Pesce PR Founder Thea Zagata.
About Pesce PR
Pesce PR is a boutique small business public relations firm for entrepreneurs, which specializes in beauty, design, fashion, food, jewelry, kids, wellness, and wedding clients. Retainer fees are available upon request and the DIY PR Pack is a $995 flat fee. For more information please visit http://www.pescepr.com or contact Thea Zagata at thea(at)pescepr(dot)com.