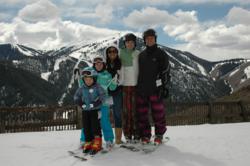 She has gotten us all to look outside of ourselves! The entire family is happier and healthier with Pily in our lives.
CAMBRIDGE, MA (PRWEB) January 31, 2013
New Year's resolutions—most everyone has them, and they often relate to living better. Want to lose weight? Introduce healthier options to your dinner table? Become more active as a family? No matter what your specific goals are, your nanny or au pair may be a key player in helping you follow through on positive lifestyle changes. Here are just five ways you can enlist your au pair to help:
1. Share your New Year's resolutions with your au pair
According to the American Psychological Association, one of the most important ways to help your New Year's resolutions stick is to talk about it. They say, "Share your experiences with family and friends. Having someone to share your struggles and successes with makes your journey to a healthier lifestyle that much easier and less intimidating." Because your au pair lives with your family and helps manage your household every day, she seems an obvious sounding board. So enlist her help for motivation and accountability. Eric and Jody Trujillo, host parents in CO use dinnertime as an opportunity to check in with their Austrian au pair Christine. They say: "We eat together in the evenings, each talking about the events in our day… and sharing our personal values and goals."
2. Schedule your au pair's childcare coverage to accommodate your workouts
The beauty of the au pair program is that you can schedule your au pair to provide childcare coverage when you need it. So no matter when it's most convenient for you to work up a sweat—early mornings, evenings or weekends—your au pair can be there to watch the kids. Says Janelle Bynum, a Cultural Care host mom, with an au pair "I have time to coach a team, exercise, grocery shop, and even cook a meal. The flexibility is priceless."
3. Recruit your au pair to be your buddy
One of the Livestrong Foundation's tips to succeeding at your New Year's resolution to lose weight is to find a workout buddy. While not every au pair will be open to a fitness challenge, there are some that would love to join an effort to be more physically active. Host mom Trieste Matte who lives in CT with her husband and three children recently wrote to us about her au pair Franziska from Germany. She shared, "My husband and I train for long distance triathlon events [and recently Franziska] joined our family and ran her first 5K."
4. Record your workout schedule in your au pair's Daily Communication Log
All host parents are encouraged to use a Daily Communication Log to write down the family's schedule for the coming weeks. Use this task as an opportunity to include the workouts you plan to fit in—this will ensure your au pair knows she will be on-duty and will help hold you accountable for following through on your fitness goals. According to the popular website, WAHM.com (short for work-at-home-moms), one way to fulfill your New Year's resolutions is to write them down.
5. Gain inspiration for New Year's resolutions from your au pair's behavior and outlook
Sarah Goucher, host mom in NH, has four children and says that her au pair, Anna from Germany, "has gotten them to eat more fruits and vegetables, and she takes them outdoors daily." A lot of au pairs are surprised to find that American families eat as much junk food and watch as much television as they do, and are happy to share healthier habits with both their host children and parents.
Wendy Hunter, a host mom in CA (pictured above on a ski trip with her family and au pair), finds that her au pair, Pily, has helped her family develop a healthier way from every perspective. Mexican-born Pily provides a healthier outlook on life in general. "What I didn't expect was that her positive approach to life and relaxed attitude have taught me to be more easy-going. She sets a beautiful example of being a hard-worker, but taking time to enjoy life and not to get caught up in the pressures around us. Pily also gently pushes us to try new things. Our children are not naturally drawn to playing outside, but through her encouragement they now love to play soccer, basketball and jump on a trampoline outside. She has gotten us all to look outside of ourselves! The entire family is happier and healthier with Pily in our lives."
About Cultural Care Au Pair
Cultural Care Au Pair is the leading provider of intercultural childcare in the United States. Since 1989, Cultural Care Au Pair has placed more than 85,000 au pairs in welcoming American homes. A U.S. Department of State regulated program, Cultural Care Au Pair is headquartered in Cambridge, MA, with their own extensive network of recruitment, screening and orientation offices worldwide and more than 600 local coordinators across the U.S. For more information, visit http://culturalcare.com or call 800-333-6056.