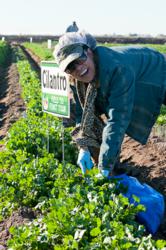 Yuma produces more than 90 percent of the leafy greens for the entire country at this time of year, and how our farmers do it is really fascinating ...
YUMA, ARIZONA (PRWEB) January 31, 2013
Even with some cool and rainy weather this winter, tickets for the Yuma Visitors Bureau "Field to Feast" tours are going like hot cakes. Fewer than 200 seats now remain for the 11 tours scheduled from Feb. 6 through March 7, so anyone hungering to get a hands-on, ground-up look at desert farming needs to act fast.
"Because a lot of people think of Arizona as a big, dusty desert, they are always surprised to learn that Yuma is the nation's winter vegetable capital,"said Linda Jordan, YVB's executive director.
"The Yuma area produces more than 90 percent of the leafy greens for the entire country at this time of year, and how our farmers do it is really fascinating, even if all you know starts and ends with lettuce."
On YVB's "Field to Feast" tour, visitors are given a quick food safety lesson and then get a chance to pick some produce for themselves at the University of Arizona research farm. While an actual Yuma grower takes them on a narrated tour of the area's vast fields - and his own farm - culinary students from Arizona Western College turn the morning harvest into a field-fresh lunch.
Seats are available for Field to Feast tours Feb. 6, 7, 9, 13, 14, 20, 20, 27 and 28, plus March 6 and 7. Already sold out for the season are YVB's "Farmer to Farmer" technical tours (for those with a background in agriculture) and Savor Yuma "progressive dinner" culinary tours. To reserve a seat and purchase Field to Feast tickets, call 800-293-0071.
Hungry for more? Mark your calendar to attend Yuma Lettuce Days (March 9-10, 2013), a homegrown festival with culinary flair that's earned a Governor's Tourism Award as the Arizona's best special event. Held at the Yuma Quartermaster Depot State Historic Park on the Colorado River, Lettuce Days features celebrity chefs, cooking demonstrations and contests, red-hot ice carvers, a farmers' market and salad bar and a tasting event showcasing local restaurants. Shorter "windshield ag tours" of growing areas are also offered during Lettuce Days.
This year's Lettuce Days headliner is Chef Ben Ford, owner of Ford's Filling Station in Culver City, Calif. - and son of actor Harrison Ford. He told Lettuce Days organizers he remembers being in Yuma as a kid when his father was filming scenes for Star Wars: Return of the Jedi in the Imperial Sand Dunes, and is anxious to see how it's changed in nearly three decades.
As a chef and restaurateur, Ford is known for celebrating the cycle of life and freshness of the earth through his choice and treatment of ingredients - which Jordan said makes him a perfect match for "Yuma's amazing agricultural bounty."
Ford will do live cooking demonstrations at 11 a.m. and 2 p.m. both Saturday and Sunday.
Also attending Lettuce Days this year will be radio personalities Bob & Sheri, whose North Carolina-based show is syndicated nationwide. They will participate in tasting and recipe judging and "meet and greet" their fans. More detailed information about Lettuce Days will be released soon and posted as it is available at http://www.yumalettucedays.com.
Throughout the winter months, Yuma also serves up an array of farmers markets and cooking classes, while local date groves offer the opportunity to sample Medjool dates, the "fruit of kings," in many forms, including the local delicacy, date milkshakes.
###
Yuma Visitors Bureau markets the Yuma area within the travel and tourism industry and to the general public.
Yuma's population nearly doubles in the winter months, thanks to more than 23,000 spots in RV parks and resorts. The community also offers nearly 4,300 hotel rooms, conference and meeting facilities, and three casinos. For more details about Yuma's year-round attractions, special events - and the rarely "cloudy with a chance of tacos" forecast* - visit http://www.visityuma.com or call 800-293-0071.

Recognized by Guinness World Records as world's sunniest spot, Yuma offered free meals to hotel guests "every day the sun doesn't shine" from Aug. 1, 2011 until July 31, 2012 as part of Arizona's Centennial celebration. Yuma's final score? Sunshine 365, Gloom 0.