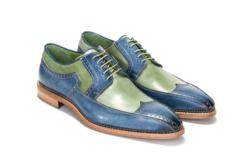 We offer exclusivity, quality and affordable prices. The best menswear in the country!
Palm Beach, FL (PRWEB) January 31, 2013
The 2013 Spring Men's Shoe Line is now available. Designed and handcrafted in Italy exclusively for FashionMenswear/Giovanni Marquez, the Spring Collection features only 10 pairs of each design and embodies the best of Italian craftsmanship and style.
Made of the finest leathers and featuring top-notch embellishments, Giovanni Marquez' men's shoe designs have been created with the contemporary man in mind. Consisting of 24 unique designs, the collection re-interprets familiar classics in fashion-forward colors and textures while also including models that reverberate with today's trends. The old familiar two-tone has been given a makeover with combinations such as avocado and denim (the color) or gunmetal and jet black. This limited edition line encompasses a variety of styles and models, from woven and stamped leathers (emulating crocodile, snake and lizard skins) to punctured Oxford inspired brogues, monks and continental slip-ons. Fully lined and cushioned, these styles offer the outmost in comfort and durability and are the perfect compliment for a confident and well-put together appearance.
Throughout the process the craftsmen start with finest leathers Italian tanneries produce, match the skins to perfection, shave the underside to match the thickness and proceed to stamp, puncture or sew embellishments. Once the different pieces are sewn together they are stretched onto a "last" which will give the desired shape to the shoe. Linings are applied; insoles and soles are attached and finished.
Afterwards another Italian shoe specialist is given the shoes to give it a full polishing to bring out intricacies and nuances of the leather uppers. This is the very last step in over 200 different steps that are used to make a pair of handmade Italian shoes for men.
FashionMenswear officially unveils the 2013 Spring Men's Shoe Collection. Experience the best that Italy has to offer the stylish man who prizes quality and comfort. Luxuriate in our buttery leathers and feel the warmth and suppleness that only an Italian shoe can provide. Roll out the carpet and step into confidence, step into a Giovanni Marquez, Private Label shoe, purveyor of quality and comfort since 1972.