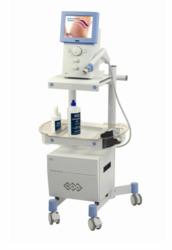 find a doctor with a variety of treatment options and many years of experience
(PRWEB) January 31, 2013
For 10 years Thermage was the only real viable option for skin tightening and body shaping. FDA approved over 10 years ago, it has proven itself amongst the monopolar radio frequency devices to get great results on the face and body, in the hands of a skilled technician, in one treatment. Thermage is still the most popular treatment because you get terrific results in one treatment, face or body. Exilis is another radio frequency device that has gained in popularity. Most patients don't understand, that although Exilis is also RF, or radio frequency, it requires multiple treatments. That can be an advantage if you have just some slight lumpiness. It's actually used quite often after liposuction.
Gaining in popularity is ultrasound or acoustic wave. Ultrasound is much newer; some machines have only been on the market for 2 years and people hesitate to trust their face to a new powerful technology. However Precision Aesthetics reports terrific results on arms and legs and cellulite with Acoustic Wave Therapy for cellulite.
Cold laser is the newest frontier. The patient does not even feel the treatment at all. That's painless. Zerona was the first on the scene and did a lot of marketing. Illumiwave Lipocontour 635 uses the same cold laser wavelength of 635 but increased the number of diodes from nine diodes to 89 diodes and increased the power from 5 mw to 25 mw. Cold lasers are for patients who need to lose overall fat. Although they might focus the light on your abdomen, cells initiate a process called cell signaling. Simply put one cell will actually tell the other cell to release it's fat, which is great if you need to lose overall, but not the right choice if you just need some spot reduction. Precision Aesthetics has started treating patients for overall circumferential loss with the first Illumiwave lipocontour 635 in New York, although not yet on their website.
"Its almost impossible for patients to remember which machine does what" remarked John Aslanian, Managing Director at Precision Aesthetics. Many who are in the business don't understand the differences or strengths of the various technologies. Explaining it on the phone to a patient is nearly impossible. Patients are more confused than ever. And this is just a few of the most popular effective treatment choices. "To get the best results find a doctor with a variety of treatment options and many years of experience, that you have a lot of confidence in," concluded Aslanian. It's also cost prohibitive for Doctors to have the best technology for every situation. Perhaps Dr Zdinak's Curbside Consults can help patient to better understand their many options.
Precision Aesthetics is located on 74th St at Central Park West. Medical Director Dr Lisa Zdinak has been featured on TV, both here and abroad and is a contributing editor to MedEsthetics. In addition to its comprehensive suite of fat busting, body shaping, skin tightening and cellulite, beating machines, Dr Zdinak offers PRP ( protein rich plasma or growth factor face lifts), Cryotherapy, Carboxytherapy and Medical Dermarolling, to name a few of its unique offerings.