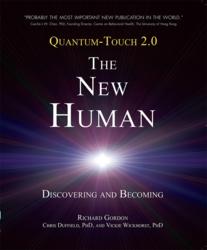 You'll quickly learn to use some lost, forgotten or simply unknown human abilities," said Richard Gordon said, founder of Quanum-Touch and author of Quantum-Touch 2.0: The New Human.
Santa Monica, CA (PRWEB) January 31, 2013
Richard Gordon, founder of Quantum-Touch, Inc., will release his second book on Feb. 12. The new work, titled "Quantum-Touch 2.0: The New Human," offers simple and effective techniques to expand on what it means to be a human being.
In the book, Gordon illuminates how humans' consciousness can positively affect the physical states of others.
"Your love is not just an electrochemical reaction in the brain, a sweet sentiment on a greeting card, or something you feel. Your love is valuable. It is powerful and can dramatically affect the physical world," Gordon said.
Gordon's techniques teach readers to focus and amplify their love to accelerate healing on multiple people at once.
"You'll quickly learn to use some lost, forgotten or simply unknown human abilities," Gordon said. "These easily learned skills allow us to do things that current science considers impossible."
Readers of "Quantum-Touch 2.0: The New Human" will learn:

The ability to accelerate the healing process and quickly reduce or eliminate pain, without touching.
The ability to visibly adjust other people's posture in seconds without touching them.
The ability to help infants and animals, and to be effective in other similar situations where the placebo effect and other psychological influences don't work.
The ability to experience love as a real transformative force.
Gordon coauthored the book with Chris Duffield, PhD., and Vickie Wickhorst, PhD., two academics who have studied the convergence of science, technology and the power of the human energy field.
"The new skills we present in QT2 will revolutionize civilization and what we think it means to be human," Gordon said.
The book has already garnered praise from around the world:
"Quantum-Touch 2.0 is probably the most important new publication in the world –a life-transforming book that changes everything," said Cecilia L.W. Chan, Ph.D., founding director, Centre on Behavioral Health, The University of Hong Kong.
"Quantum-Touch 2.0 is true energy medicine. This technique is cutting edge, and it is easy to learn. I have seen it produce immediate results. Once this information goes global we will experience a major decline in all health challenges," said Dr. Howard Elkin, FACC.
"QT2 is the simplest healing technique for anyone to learn and practice. It makes possible Richard's vision for the future. When this healing energy of compassion is practiced widely, the people on this planet will live in harmony," said Dr. Huy Hoang.
"Quantum-Touch 2.0: The New Human" is available for pre-order. Click Here Gordon's first book, "Quantum-Touch: The Power to Heal," is also available on Amazon in paperback and Kindle editions.
ABOUT QUANTUM-TOUCH, INC.
Quantum-Touch is a powerful, yet easy to learn, method of natural healing (or energy healing). Everyone has the innate ability to help ourselves and others. The Quantum-Touch techniques teach us how to focus and amplify life-force energy (or Chi, Bioenergy, Prana) by combining various breathing and energy awareness exercises. QT energy healers learn to amplify and direct the life-force energy, facilitating the body's own healing process. Our love has more impact than we can imagine; the possibilities are truly extraordinary.
For more information, please visit http://www.quantumtouch.com.