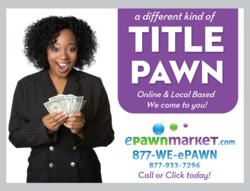 ePawnMarket.com's Georgia Title Pawn Rescue Program can save a customer with a $2000 Title Pawn $2282 annually!
Atlanta, Georgia (PRWEB) January 31, 2013
Online Pawn Shop and Atlanta Title Pawn Loan Company ePawnMarket.com has unveiled its Title Pawn Loan Rescue and Title Pawn Buyout Programs for 2013.
"We here at ePawnMarket.com are thrilled to unveil to the public our Title Loan Rescue Program that will allow customers all across the State of Georgia access to a Georgia Title Pawn Company that GUARANTEES the Most Cash for your car or truck and the absolute best terms on a Low Interest Rate Title Pawn" states Andy M. Anderson, Director of Processing and Logistics.
Anderson continued by saying, "ePawnMarket will offer Atlanta Title Pawn Loan and Georgia Title Pawn Loan customers the ability to safely and securely switch Title Pawn providers via a Title Pawn Buy Out Program that will save customers thousands of dollars over the life of their loan"
With this Title Pawn Buyout and Georgia Title Pawn Rescue Program a typical customer with a $2000 Georgia Title Pawn Loan with a $250 a month payment can save from $190 to $50 PER MONTH! If the customer were to continue this interest only 30 day title pawn loan for a year that's a savings of up to $2282 for each and every customer!
"We hope to change Georgia Title Pawn customer's lives each and every day and by offering customers Max Title Pawn Loan Cash and a Low Interest Rate Title Pawn that is unmatched anywhere we feel we can make a difference in the Georgia Title Pawn and Atlanta Title Pawn Loan Industry," states Daniel A. Delnoce, Director of Sales and Marketing.
With a Customer First Approach and a companywide mantra that, "Anything Less Than Fanatical Customer Service Is Unacceptable," ePawnMarket.com hopes to change Georgia Title Pawn Loan Customers lives, one customer at a time.
We CARE – We are ePawnMarket.com
About ePawnMarket.com and its Georgia Title Pawn Loan Division
ePawnMarket.com is one of the world's largest Online Pawn Shops. Online Pawn Shop customers can secure traditional pawn loans using luxury items of value that they already own as collateral that can be shipped via Federal Express. U.S. Residents may use luxury watches, jewelry, handbags, gold, silver, precious metals, collectibles, and digital SLR cameras as collateral to obtain fast cash safely and discretely from the comfort of their own home. ePawnMarket.com also offers free shipping and insurance on all items you buy, pawn, or sell. By offering our "best deal guarantee" customers can rest assured they will receive the ability to obtain fast cash without credit checks or the hassle of cumbersome paperwork due to bad credit. Can't ship your item? That's no problem! We have partnered with hundreds of local pawn shops around the country to offer you fair and honest rates and terms that benefit both the consumer and local pawnbroker.
ePawnMarket.com's Georgia Title Pawn Loan division is one of Georgia's largest and fastest growing Title Pawn Rescue Lenders. By offering Georgia Title Pawn and Atlanta Title Pawn Loan customers a new deal and a way out of their current Georgia Title Pawn Trap ePawnMarket.com has placed itself in a position to be an industry leader in not only Online Pawn Shops but Title Pawn Rescue as well. ePawnMarket offers Georgia title pawn loans on cars, trucks, motorcycles, boats, trailers, recreational vehicles and heavy equipment. By offering the Lowest Interest Rates and the Most Cash ePawnMarket.com allows consumers to use their Car as their Credit in order to obtain Fast Cash for their Georgia Title Pawn Loans. With ePawnMarket.com your car title is your credit, your car title is your cash, and your car title is your freedom. By guaranteeing the Lowest Interest Rates and Payments you will get your title back with ePawnMarket.com