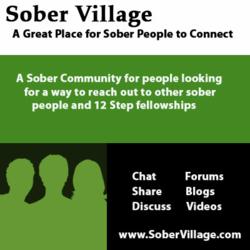 I live in a very small town with only a few meetings. This site is helping me connect with others in recovery.
Seal Beach, CA (PRWEB) January 22, 2013
One of the hardest parts of staying sober is making the lifestyle changes that are necessary to remain alcohol free. One of those changes is finding sober friends. This new online sober community can help recovering alcoholics make new friends in a safe environment. Read our 5 steps to joining an online sober community. The temptation to have "just one drink" is a difficult one for many to resist, so having a resource such as this can make a difference in maintaining sobriety. Often the hardest times to get through are those hours late at night or early in the morning when there is that feeling that there is no one to talk to. The wonderful thing is that this online sober community is available 24 hours a day, 7 days a week, 365 days a year, from anywhere in the world. At Sober Village there is support to help members feel connected to others. It is anonymous and free of charge.
The journey to an alcohol free life is not always an easy one, but making friends who understand what it is like helps alcoholics come together to support one another in their efforts. Hopefully all of them have a greater chance of success staying alcohol free.
Very often people beginning to get sober have been living at isolated life for a long time. Alcohol and addiction is usually a lonely life. It is important for individuals that are newly sober to connect with others in recovery. Sober Village is a way to connect with others in a safe and anonymous environment. The website has a sober community forum where members can post their status or ask questions.
In addition to the Community Forum, there is a Sober Chat section and a place for members to write their own blogs. There is also a Calendar for upcoming sober events where anyone can post local events for their area. Any member can create a group and ask others to join. There is a section to share photos and videos and view those that others have posted.
About Sober Village:
Sober Village is a new sober community for people looking for a way to reach out to other sober people and 12 step fellowships. It is easy to join, anonymous and free of charge. This Sober community is an excellent supplement to regular A.A. or other 12 Step meetings. Members can interact in the chat section or express their thoughts through a personal blog.