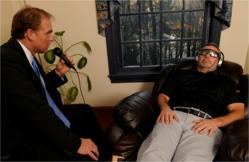 super charged hypnosis
Pittsburgh, PA (PRWEB) January 09, 2013
The beginning of a new year is the perfect time to reflect on your past and look forward to your future. Many people have a long history of making and breaking New Year's Resolutions. The average number of times that a person makes the same resolution is 10 and over 25% of New Year's Resolutions are broken within the first three months. New Year's Resolutions always seem like a great idea at the time but very few people are actually able to convert their New Year's Resolutions into lifelong healthy habits on their own. When kept, a single resolution can positively and profoundly create lasting change in your life.
Aside from spending more time with family and friends, the four most popular New Year's resolutions are to exercise more, lose weight, quit smoking and reduce stress and anxiety. Despite even the best intentions, most people are not able to make long-term lifestyle changes on their own. Many people have tried everything to lose weight and nothing has worked for them. Whether it's Weight Watcher's 360, Jenny Craig, Nutri-System or Dr. Oz's newest latest weight loss solution, it is virtually impossible to lose weight and keep it off unless you are mentally prepared for success. Dan Vitchoff, President of PA Hypnosis Center, and Olympic Mental Training and Performance Coach helps his clients prepare themselves mentally to achieve personal success in the areas of weight loss, smoking cessation, anxiety, sports enhancement, professional and personal improvement and more.
Joe Balog from West Virginia has been smoke free now for over six years. Joe Balog began working with Dan Vitchoff, Board Certified Hypnotherapist and President of PA Hypnosis Center in Pittsburgh, PA in November of 2007 with a goal to quit smoking, now, more than six years later, he is still going strong and he has lost 70 pounds!
He had been smoking for over 17 years and had tried just about everything else to quit smoking and nothing worked. He even tried a group hypnosis session and wasn't able to quit. Joe was also very impressed with PA Hypnosis Center's 98% Success Guarantee. He visited PA Hypnosis Center for a free consultation and was impressed by how relaxing the office was and how professional the staff was. Even though Joe wanted to lose weight and quit smoking, he decided to participate in a Hypnosis Smoking Cessation Program first and then work on the weight loss second.
Joe's first session allowed him to wrap his mind around the idea that he was going to live the rest of his life as a non-smoker and his second session was his quit day. On Joe's Quit Day, he left PA Hypnosis Center's office is Pittsburgh, PA as a Non-Smoker free of cravings and desires and finally free from cigarettes.
After Joe successfully quit smoking he decided to participate in a Hypnosis Weight Loss Program to improve his health and have more energy. Joe began his weight loss journey during the holiday season and lost 30 pounds over the holidays even though that is traditionally one of the most difficult times to lose weight. What Joe did is an amazing accomplishment! It can be difficult enough to quit smoking or lose 70 pounds but to do both is truly inspiring. With Dan Vitchoff and PA Hypnosis Center's help, Joe was able to turn his life around and improve his quality of life; he has more energy and his family is thrilled with his success.
In addition to being a Board Certified and Licensed Hypnotherapist and President of PA Hypnosis Center, Dan Vitchoff is also a Mental Training and Performance Coach for US Olympic Athletes and the founder of the Nationally Acclaimed and Trademarked Sports Improvement Technique, "The 33 Method." Two Time Olympic Gold Medalist, Vincent Hancock credits much of his success to the Mental Edge that he achieved from Dan Vitchoff's Trademarked "33 Method" Mental Training Programs. Hancock says, "This type of Supercharged Hypnosis that Dan Vitchoff has developed has been designed using words that the brain responds to and it's mixed with certain types of tones and music and brain wave technology. He helped me win a Gold Medal at the Olympics, twice and he can help you reach your goals, whether you want to lose weight, quit smoking or reduce stress and anxiety in your life."