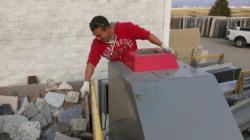 Recycling of Granite Waste
Knoxville, TN (PRWEB) January 21, 2013
Granite waste has always been a major concern for the stone industry and millions of dollars of granite ends up in our land fills on a daily basis.
Louwrens Mulder owner of Waste to Value Stone's vision is to make a difference in the way people perceives this topic. The ultimate goal is what the company name stands for "To change granite waste to a sought after valuable product" for more than just the building industry.
The crusher is the second of five machines that will be designed and built specifically to repurpose 100% of all waste.
The first machine, the Tomahawk Stone Splitter which is distributed by Braxton Bragg has been well accepted in the market place and it's end product will be seen shortly on major retail store shelves.
The second machine, is a complete crusher and screener line designed for counter top fabricators.The crusher and screener line separates the granite or marble aggregate into four or even five different sizes for multiple applications from granite meal for organic plant growth, composite products, road fillings, landscaping and many other applications.
The different aggregate sizes can be handled in bulk or bagged for supply to retail outlets.