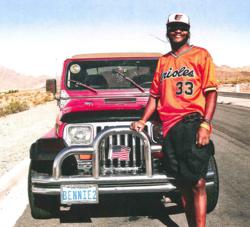 ...in Hawaii I was continuously told that it was the best looking Jeep on the Island.
Owings Mills, MD (PRWEB) January 09, 2013
On July 1st twenty years ago, Bennie David Jr. walked into the local Heritage Chrysler, Dodge, Jeep dealer on Reisterstown Road to purchase a Jeep. The radiant fire red Wrangler with bucket seats and a cloth top was exactly what he was looking for. The year was 1992, and he couldn't wait to get his custom stripes painted and ride her down the streets of town. With MPG being less of a concern in the 90's, a 15 city/16 hwy rating sounded good to Bennie. That would be fine with most drivers today as well if it only cost them $18 to fill their gas tanks – just like it did for Bennie in 1992 at the local Crown station, $18.03 for 13.7 gallons of gas! He still has all his receipts.
Since that July day in 1992, Bennie has taken his Wrangler all over as a Sanitation Expert, to places like Pennsylvania, Japan, California, Hawaii, and currently resides in Nevada after racking up 307,011 miles. The high praise Bennie and his Wrangler received were well worth the time he spent making sure she was well taken care of.
Today, 20 years later, there are still reliable cars like Bennie's being sold at Heritage Automotive with salespeople who enjoy what they do and continue to put drivers behind the wheel of cars they can love for years to come. If those drivers do as good of a job as Bennie did, there is no telling how many years that love can last.