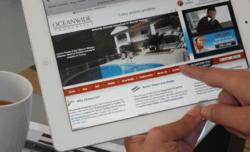 With the extension of property ownership rights to more international buyers in Turkey we are keen to extend our expertise to a more global scale
(PRWEB UK) 9 January 2013
UK-based agent and Turkey property specialist Oceanwide Properties has introduced many a happy buyer to the attractive and lucrative opportunity of overseas property investment. Until now, the agency has well-served the British appetite for a place in the sun, but is branching out in 2013 with a new website made more accessible to a greater international audience seeking property in Turkey for sale.
'2012 proved an auspicious year for investors in property in Turkey', says Suleyman Akbay, MD of Oceanwide Properties. 'With demand boosted by the extension of property ownership rights to more international buyers, home values demonstrating double digit growth, and judicious economic reforms which saw the country reach 'investment grade' ranking by the close of the year, Turkey enters 2013 marked out not for its struggles, as in much of Europe, but as at the forefront of investment lists.
'We have enjoyed building an excellent reputation for introducing British buyers to quality investment and holiday property in Turkey, and with our learnings from 2012, we are keen to extend that expertise to a more global scale', he adds.
On visiting the agent's site, home hunters will now be able to stay up-to-date with the latest Turkey property news – which includes local and financial updates affecting the real estate sector, download informative resources on Turkey property rules for letting and taxation, view videos on how to buy and hear buyer experiences, ask questions and get immediate responses through online chat, request valuations and see what's hot on the Turkish market.
Adds Akbay, 'We aim to continue evolving our site by adding new pages whenever we believe our clients will benefit from it. We are already preparing to add further new language sections, including Arabic, to broaden our language support for customers. We also hope our new interactive ebooks, blog, Facebook page, Twitter and the online poll on our site will appeal to our more social media minded customers and provide them with more channels in which to engage with, and feed back to us, on our portfolio.'
Long-standing independent agents to a 200 mile stretch of coastline in south west Turkey, the agency launched themselves into the industry by marketing properties in the small harbour town of Fethiye over seven years ago.
Oceanwide Properties' portfolio now covers the key resort destinations of Antalya, Dalaman, Dalyan, Fethiye, Kas, Kalkan, Izmir, Koycegiz and more recently Istanbul. Their expertise and passion for Turkish property has enabled them to go from strength to strength in bringing high-end Turkish residential developments to market, at affordable prices. Currently this includes the distinguished LaVanta Residences perched above the riviera resort of Kalkan, and the five-star 'Innovia' city-scape development in the heart of burgeoning Istanbul.
Whether you speak Russian, German, Turkish, Polish or any of the languages soon to be featured on the site, http://www.oceanwideproperties.co.uk is worth a visit if you are serious about investing in Turkish property.
-ENDS-
Notes to Editor