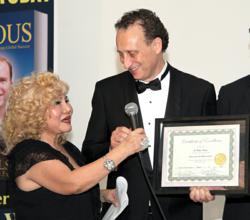 "It is an honor to have been selected for the Best in Red Bank Award."-said Dr. Robert Korwin
Red Bank, NJ (PRWEB) January 21, 2013
Each year, the Red Bank Award Program identifies companies that they believe have achieved exceptional success in their local community and business category. These are local companies that enhance the positive image of small business through service to their customers and their community. These exceptional companies help make the Red Bank area a great place to live, work and play.
Robert Korwin DMD Advanced Dentistry with a Gentle Touch was selected for the 2012 Best of Red Bank Award.
Various sources of information were gathered and analyzed to choose the winners in each category. The 2012 Red Bank Award Program focuses on quality, not quantity. Winners are determined based on the information gathered both internally by the Red Bank Award Program and data provided by third parties.
About Red Bank Award Program
The Red Bank Award Program is an annual awards program honoring the achievements and accomplishments of local businesses throughout the Red Bank area. Recognition is given to those companies that have shown the ability to use their best practices and implemented programs to generate competitive advantages and long-term value.
The Red Bank Award Program was established to recognize the best local businesses in their community. The organization works exclusively with local business owners, trade groups, professional associations and other business advertising and marketing groups. Their mission is to recognize the small business community's contributions to the U.S. economy.
About Dr. Robert Korwin:
Robert Korwin DMD, MICOI, MAGD is a renowned general dentist with 30 years of experience, teaching innovating, and practicing in Middletown NJ and Red Bank, NJ. Dr. Korwin has expertise in Implantology, Orthodontics, Periodontal Surgery Dental Esthetics, Sedation, Prosthodontics, and many other dental practice areas for over three decades. He also received three patents in dentistry, and has helped manufacture dental products and launch dental software and training companies.
With extensive academic, clinical and didactic training, he is one of only a handful of dentists worldwide who have dual Mastership awards from The Academy of General Dentistry and The International College of Oral Implantologists. Dr. Korwin is a highest honors graduate of Progressive Orthodontic Seminars, awarded to only 2 of 4,000 students in 24 years Dr. Korwin promotes excellence in preventing orally linked disease and provides highly cosmetic dental repair and reconstruction utilizing orthodontics, implants, surgery, prosthetics and sedation, with laser, digital and computer assisted diagnostics. The practice provides a one stop dental experience and coordinates with patients to maximize their dental health, ensure their comfort and minimize financial concerns.
For more information, please visit http://www.drkorwin.com or call (732) 219-8900.
SOURCE: Red Bank Award Program
CONTACT:
Red Bank Award Program
Email: PublicRelations(at)awardprogram(dot)org
URL: http://www.awardprogram.org
###