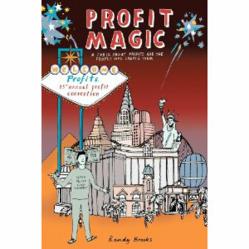 A person who goes through life with a laser-like focus on the long run and a decision process that favors the options that best enhance their achievement of long-term goals will, almost certainly, live a fuller, happier and more successful life.
Cincinnati, OH (PRWEB) January 09, 2013
Cincinnati publisher Beyond the Trees announces the publication of "Profit Magic: A Fable About Profits and the People Who Create Them". The book explores the journey of one entrepreneur, from the initial decision and strategy, through the early challenges and finally successes. Told through the eyes of "Peter Profit", this entertaining fable provides a first-hand look at how a market research firm grew from one man and an idea, to over 130 employees and $40,000,000 in annual revenue.
Along the way, Peter Profit details the lessons of operating and growing a personal services firm, including treating clients (called Klients) as Kings and employees as adults, maintaining transparency and a clear line of sight to the bottom line, and sharing the profits fairly with the people who help create them. Challenges and setbacks are mined for learning, and the story even includes tips on how to handle the "Demons" that haunt the sleepless nights of every new business owner.
Market research industry insiders call this book a "must-read". Bob Lederer, President of RFL Communications Inc. and editor of Research Business Daily, writes "This is required reading for those who want to get into the business of market research or owners having trouble growing." Larry Gold, Editor and Publisher of "Inside Research" (called "The Bible of the Market Research Industry" by Barron's) gives the book five out of five stars. "Randy Brooks did not write this easy reading paperback for those he's been surrounded by during his long career (market researchers). But this is a book that every person who has ever worked in or dabbled in market research must read. Also PERFECT for grad students looking forward to a career in the industry."
While the book is based on the success of a marketing research firm, its universal lessons and readable style make it a fit for service providers and entrepreneurs of all types, in addition to business students and entrepreneurship programs.
ABOUT RANDY BROOKS: Randy Brooks founded Directions Research in 1988. Today the firm employs over 135 professionals and provides marketing guidance to an array of Fortune 500 firms. Randy holds a bachelor's degree from the University of Maryland and an MBA from the University of Cincinnati and is available for speaking engagements.
ABOUT BEYOND THE TREES: Beyond the Trees is a Cincinnati based personal history and publishing firm, dedicated to preserving the stories of extraordinary people and organizations and creating extraordinary everlasting gifts to mark milestone events.
# # #