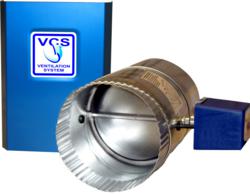 The Ventilation Control System from Jackson Systems meets ASHRAE 62.2 standards for fresh air.
Indianapolis, IN (PRWEB) January 23, 2013
ASHRAE 62.2 is a health and safety measure developed by the American Society of Heating, Refrigeration and Air-Conditioning Engineers to enable dwellings to achieve acceptable levels of indoor air quality. The Standard contends that reliance solely on operable windows is inadequate to provide for ventilation in residential buildings. This coupled with concerns about increasing levels of indoor contaminants and mold growth has led for the need for mechanical ventilation - allowing fresh air into the home.
Though the Standard is not new, it is gaining more attention as many states have passed legislation requiring fresh air introduction into newly constructed homes. Gases from combustion appliances like furnaces, fireplaces and stoves can accumulate in a poorly ventilated home and threaten health and safety. Additionally, elevated levels of humidity can contribute to mold growth and make the cooling equipment in the home work harder which can lead to more costly energy bills.
There are many effective products on the market to control ventilation in residential dwellings. The Ventilation Control System (VCS) from Jackson Systems is one such product. This newly introduced ventilation control product is easy to adjust for each home's particular ventilation need. The VCS meets ASHRAE Standard 62.2 and is an economical way to control ventilation and improve indoor air quality. The VCS can be installed by a heating and cooling contractor in new construction or existing homes. For more information, visit jacksonsystems.com/vcs.