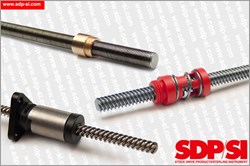 Excellent Cost Performance
New Hyde Park, NY (PRWEB) October 15, 2013
Stock Drive Products (ISO 9001 Registered Manufacturer) now carries all former Techno, Inc. stock of Acme lead screws and nuts. The lead screw selection is vast, with many different diameters, lengths, and number of starts available, as well as left-hand threads for certain sizes. The nuts come in several different materials and styles, including anti-backlash, ensuring that every linear motion application can be fitted with just right part. All SDP Acme lead screws are made of high-quality 300 series stainless steel, and offer excellent corrosion resistance.
The main advantage of acme lead screws over other styles is that the trapezoidal thread profile is much easier to manufacture, resulting in substantial cost savings. If the application doesn't call for the high efficiency offered by ball screws, acme lead screws provide an appropriate, much cheaper alternative. Additionally, the larger thread contact area provides two distinct advantages. First, the load capacity is much higher. Second, the higher friction helps prevent back-driving. This makes them ideal for vertically raising and suspending heavy loads, like in car jacks and lifts.
SDP/SI is a leading manufacturer of small mechanical components, servicing a wide variety of aerospace, medical and commercial industries for over 50 years. Quotes, online orders, and 3D CAD Models are available on our updated estore at http://www.sdp-si.com/estore. SDP/SI offers over 130,000 power transmission components, including gears, belt and chain drives, shafts, shaft accessories, bearings, couplings, universal joints, vibration mounts, miscellaneous components, hardware, gearheads and speed reducers, right angle drives, brakes and clutches, motors and gearmotors. For additional information about SDP/SI please visit http://www.sdp-si.com. Stock Drive Products / Sterling Instrument (SDP/SI), 2101 Jericho Turnpike, P.O. Box 5416, New Hyde Park, NY 11042-5416. Phone: 1-800-819-8900 | 516-328-3300 • Fax: 516-326-8827.
For additional details go to: http://www.sdp-si.com/product-announcements/Acme-Lead-Screws.htm.
Note to Editor: An electronic version of this release including a 300 dpi .jpg image at 3" wide can be downloaded at: http://www.sdp-si.com/product-announcements/Acme-Lead-Screws.htm.
SDP