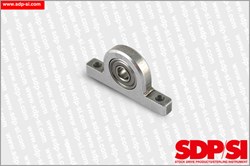 SDP/SI Integrated Design, Engineering and Manufacturing Under One Roof.
New Hyde Park, NY (PRWEB) October 17, 2013
Stock Drive Products (ISO 9001 Registered Manufacturer) offers miniature pillow block ball bearings from Spyraflo. As an exclusive authorized distributor, SDP carries many different types of Spyraflo bearings for small quantity orders. These miniature, compact design pillow block ball bearings are ideal in applications with limited space. With an aluminum housing, stainless steel bearing and double shielding, they have excellent corrosion resistance, making them suitable for medical, scientific and pharmaceutical applications.
Identified as the A 7Z29-... and A 7Z29M... series, these ABEC 3 bearings are available in both inch and metric sizes, for shafts ranging from 1/8" to 3/8" and 4mm to 10mm. They are rated for speeds up to 56000 rpm and radial loads up to 450 lbf, and have an operating temperature of -22°F to 248°F. They are also lubricated for the life of the bearing, and are completely maintenance-free.
SDP/SI is a leading manufacturer of small mechanical components, servicing a wide variety of aerospace, medical and commercial industries for over 50 years. Quotes, online orders, and 3D CAD Models are available on our updated estore at http://www.sdp-si.com/estore. SDP/SI offers over 130,000 small mechanical components, including gears, belt and chain drives, shafts, shaft accessories, bearings, couplings, universal joints, vibration mounts, miscellaneous components, hardware, gearheads and speed reducers, right angle drives, brakes and clutches, motors and gearmotors. For additional information about SDP/SI please visit http://www.sdp-si.com.
For additional details go to: http://www.sdp-si.com/product-announcements/miniature-pillow-block-bearings.htm.
Note to Editor: An electronic version of this release including a 300 dpi .jpg image at 3" wide can be downloaded at: http://www.sdp-si.com/product-announcements/miniature-pillow-block-bearings.htm.