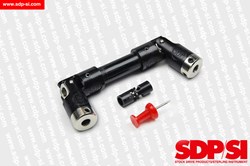 SDP/SI is the leader in the design and manufacture of precision mechanical components.
New Hyde Park, New York (PRWEB) October 02, 2013
SUPER-PLAST® molded universal joints offer the best of both worlds: the economy of plastic and the fastening characteristics of metal-to-metal contact. In addition, they feature lower inertia, greater torsional strength and higher strength-to-weight ratio than all-metal couplings of similar size. Developed for a wide variety of instrumentation applications, these joints have thick-walled molded plastic hubs for a lightweight, durable and economical design.
These joints are available single or double jointed, with the option of molded or brass slide extensions. They can have all molded construction or nickel-plated brass spiders and inserts. All styles are available in inch and metric sizes. All SDP molded universal joints can operate at temperatures up to 180°F (85°C). Maximum angular displacement is 45°, and maximum torque rating is 60 in•lbf.
SDP/SI is a leading manufacturer of small mechanical components, servicing a wide variety of aerospace, medical and commercial industries for over 50 years. Quotes, online orders, and 3D CAD Models are available on our updated estore at http://www.sdp-si.com/estore. SDP/SI offers over 130,000 small mechanical components, including gears, belt and chain drives, shafts, shaft accessories, bearings, couplings, universal joints, vibration mounts, miscellaneous components, hardware, gearheads and speed reducers, right angle drives, brakes and clutches, motors and gearmotors. For additional information about SDP/SI, please visit http://www.sdp-si.com. Stock Drive Products/Sterling Instrument (SDP/SI), 2101 Jericho Turnpike, P.O. Box 5416, New Hyde Park, NY 11042-5416. Phone: 1-800-819-8900 | 516-328-3300 • Fax: 516-326-8827.