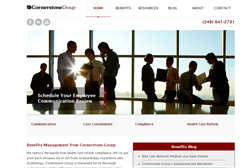 "Our new website and updated client portal help ensure employers are up to date on the latest group benefits, ACA and compliance related topics." Frank Mayer, President
Troy, Michigan 48098 (PRWEB) October 22, 2013
Cornerstone Group, based in Troy, Michigan, is pleased to announce its new Michigan Group Benefits website which provides an extensive array of resources for Michigan employers including compliance, cost containment, employee communication and health care reform. The new Cornerstone Group website offers employers, monthly benefits newsletters, legislative briefs, pay-or-play calculator, health care reform checklist, and a group benefits and compliance blog. Cornerstone Group is renowned for its thorough understanding of ACA and the changing implications for Michigan employers, and it strives to leverage the latest in technology and services to ensure that Michigan benefits clients optimize coverages while maintaining compliance. Michigan HR professionals can visit the new website at: http://www.cornerstonebenefits.com.
Cornerstone Group President, Frank Mayer commented, "Our new website and updated client portal help ensure employers are up to date on the latest group benefits, ACA and compliance related topics. Our job is to take the hassle out of healthcare for all of our clients." Cornerstone Group's extensive industry knowledge and deep subject matter expertise help ensure that clients receive the advice and guidance they need to deliver superior coverages at competitive rates.

Cornerstone Group's team is prepared to manage every aspect of healthcare reform compliance, ensuring Michigan employers avoid the fines from improper implementation.
As a result, organizations can focus on the details of their business instead of the complexities of healthcare reform.
Cornerstone Group has set the industry standard for employing technology to simplify benefits administration and free up time for human resources professionals
Cornerstone Group offers online enrollment, extensive employee self-service options and the elimination of all paper processes
About Cornerstone Group
Founded in 1982, Michigan-based Cornerstone Group is one of America's most technologically advanced insurance firms. Cornerstone Group understands the compliance and communications challenges impacting Michigan businesses and helps organizations comply with complex ACA provisions positioning their workforce for growth and profitability. For more information, visit the new Cornerstone Group website Cornerstone Group. 248-641-3608.