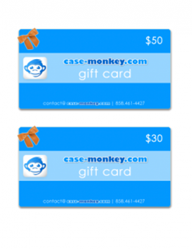 A gift card will ensure that the person who gets it will get a custom phone case that will fit their phone and a design they will be guaranteed to love
San Diego, CA (PRWEB) October 01, 2013
A custom phone case is a great gift for birthdays, holidays, graduations, and any other special occasions. This great gift can now be even greater with a Case-Monkey.com gift card. Before this product launch, pre-designed custom phone cases were the only gift option customers could give. Now, with a Case-Monkey.com gift card, customers can choose to purchase a gift card good towards a case without a design. The recipient they give it to can enjoy personally designing it themselves.
Same Great Gift Without the Worry
With a gift card customers no longer have to worry about the variety of aspects that need to be considered that they may not have the answers to. Sometimes, figuring out the right design or what type of phone the case needs to fit on can be harder than expected. With a gift card, consumers no longer have to wonder which case and what design is going to make it a perfect gift. "It will ensure that the person who gets it will get a custom phone case that will fit their phone and a design they will be guaranteed to love," says Allison Marotta, a representatvie at Case-Monkey.com.
Gift Card Options
Case-Monkey.com offers a $30 and a $50 dollar gift card to choose from. The recipient can choose from iPhone cases, iPad cases, Samsung Galaxy cases, and Blackberry cases. This unique yet practical gift is great for friends, family, or coworkers, and it lets them have the fun in designing it.
About Case-Monkey.com
Case-Monkey.com is the best place online to make iPhone cases, iPad cases, Blackberry cases, and Samsung Galaxy S3 and S4 cases.
Case-Monkey.com is a small company with a simple mission: provide design freedom and the ability to easily design completely customized cases online at great prices. It's all about being easy for anyone to custom design their own iPhone, iPad, and Galaxy cases. Follow Case-Monkey.com on Facebook, Twitter, Pinterest and LinkedIn.