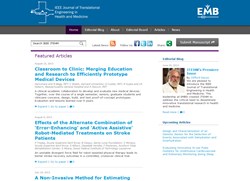 The purpose of JTEHM, and other journals of its kind, is to facilitate community-building. On this site, we invite people to make comments and maintain discussions. – Robert Kovacs, Web Architect and Producer, D2 Creative
Somerset, NJ (PRWEB) October 01, 2013
D2 Creative recently launched a new website to host the IEEE Journal of Translational Engineering in Health and Medicine (JTEHM), an open-access journal sponsored by the IEEE Engineering in Medicine & Biology Society (EMBS). EMBS is one of 38 societies of the Institute of Electrical and Electronics Engineers (IEEE), a long-time partner of D2 Creative.
"We're very excited about the new website for the EMBS open-access IEEE Journal of Translational Engineering in Health and Medicine. Without the knowledge and professionalism of D2 Creative, we couldn't have launched in such a short time or with such a great site." – Laura J. Wolf, Society Executive Director, IEEE Engineering in Medicine & Biology Society
IEEE currently offers four open-access journals as part of a growing movement to distribute information more equitably. D2 Creative developed the JTEHM website in WordPress, and designed features that encourage readers to further engage with the free scholarly articles available to them. Readers can browse abstracts, author profiles and editorial comments on the JTEHM site. Direct links to the IEEE Xplore digital library allow readers to access the full transactions without paid subscriptions.
The JTEHM site uses the global comment platform, Disqus, to host a conversation among readers at the foot of each transaction summary.
"The purpose of JTEHM, and other journals of its kind, is to facilitate community-building. On this site, we invite people to make comments and maintain discussions." – Robert Kovacs, Web Architect and Producer, D2 Creative
As an exclusively digital publication, JTEHM is a source for timely articles that address current events as they occur. The site also serves as a feed for upcoming events, the latest biomedical engineering-related news and the most recent reader comments.
IEEE
IEEE (http://www.ieee.org) is the world's largest professional association for the advancement of technology. IEEE EMBS is dedicated to advancing the application of engineering sciences and technology to medicine and biology. For more information on the society, or to see a complete list of EMBS-related conferences and publications, visit http://www.embs.org/.
D2 Creative
D2 Creative (http://www.d2creative.com) is an independent digital agency that helps organizations increase reach, influence, and effectiveness through creative digital solutions.
If you would like more information about this topic or D2 Creative in general, please contact Carrie Plantamura at the contact information listed.