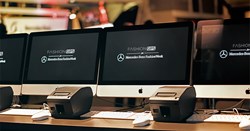 Our vision is simply to be the fashion industry's most essential and trusted platform.
NEW YORK, NY (PRWEB) October 02, 2013
Fashion GPS, the leading digital solutions provider of event and sample management for fashion brands worldwide, announced today that it has raised $4 million. The company intends to use the proceeds to accelerate product development as well as international expansion and talent acquisition.
Product development will include enhancement of the existing GPS Platform. An example of such innovation is GPS STYLES 2.0, which launched two weeks ago in partnership with PR powerhouse KCD. This product brings the ultimate level of at-your-fingertips efficiency for accessing and utilizing digital assets – runway looks, campaign images, product shots and more – to editors, retailers, bloggers and influencers through GPS RADAR. This new integration will provide a virtual showroom, allowing GPS RADAR users to connect with any participating brand at any time and any place. In addition to product enhancements, GPS also plans to dedicate additional team resources solely for technology discovery.
Expansion to serve Asia Pacific within the next year is a priority for Fashion GPS. With support from new investors, the company will leverage their rich networks and expertise to service this market as well as create a presence in Hong Kong. Additionally, the company will look to open an office in Milan to further support its existing Italian clients and foster new ones.
In addition, Fashion GPS is focused on talent acquisition, strategically growing the senior management team with seasoned executives and key industry members. Recent hires include Mark Bryce as Global Sales Director, who comes in with over 20 years of experience in sales for SaaS solutions, and Alison Levy as Global Strategy & Partnerships Director, formerly with IMG Fashion and NET-A-PORTER, as well as adjunct professor at Parson's AAS Marketing Program.
  
"I look forward to growing our global footprint, as well as expanding our product offerings to cater to different facets of the industry worldwide," said Fashion GPS Founder and CEO, Eddie Mullon. "Our vision is simply to be the fashion industry's most essential and trusted platform."
Fashion GPS is the only digital platform servicing the needs of the global fashion marketplace with a holistic approach. The company's technology enables clients to streamline many of their day-to-day processes, from product development in the design phase, to sample, event, and editorial management in the PR department.
Since 2010, nearly 200 clients globally have executed 5,000 events and sent 4.2 million invitations using the Fashion GPS Events platform. Moreover, that year the company partnered with IMG Fashion to digitize the "Fashion Week" experience at Mercedes-Benz Fashion Week in New York, and create a much more efficient check-in process. Currently, 13,000 editors, buyers, stylists, and industry professionals use GPS Radar to manage their event calendars, RSVP to the most coveted shows, share images to their social platforms and even request samples immediately after a runway show.
About Fashion GPS
Since 2006, Fashion GPS has been designing digital solutions to connect the global fashion industry. First with GPS SAMPLES, followed by GPS EVENTS in 2008, GPS RADAR in 2011, and now GPS STYLES 2.0, it has built technology that fully supports the world's top brands. Fashion GPS delivers innovative products to more efficiently power their businesses, and architect platforms to bring together designers, editors, buyers and other key influencers in this perennially evolving marketplace. Fashion GPS services over 175 clients via its four offices in New York, London, Paris and Australia.