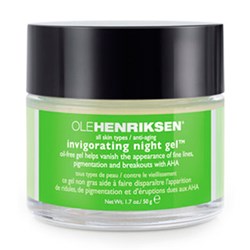 Ole Henriksen Invigorating Night Gel works overnight to wake up the body's natural repair system with its vitamins, minerals and alpha hydroxy acid complex.
Anaheim, CA (PRWEB) October 01, 2013
The skin product web store, DrSkinSpa.com, is a highly well regarded mainstay for consumers desiring the latest in anti-aging skin care formulations. The decidedly-effective skin brightening cream product lines offered at this multi-faceted e-store web site are what makes DrSkinSpa.com a giant in its field. The products sold at the DrSkinSpa.com site contain natural and botanical ingredients and include the latest technological enhancements in their gels, cream and even in their packaging. DrSkinSpa.com is proud to present its latest addition of Ole Henriksen Invigorating Night Gel.
Ole Henriksen Invigorating Night Gel is formulated using a complex of natural alpha hydroxy acids (AHAs). This Ole Henriksen AHA complex works to rejuvenate aging skin cells, which will, in turn, diminish fine lines and wrinkles and even prevent new signs of aging from forming. The Ole Henriksen AHA complex will also smooth out the skin's texture to aid in achieving a firmer, more youthful skin surface and consistency.
The AHA complex used in Ole Henriksen Invigorating Night Gel includes lactic acid and glycolic acid. These are both natural skin-exfoliating agents that work to slough off dead skin cells in order to reveal fresher, younger skin. This new skin revelation achieved with Ole Henriksen gel's AHA complex will make the user appear more youthful and more refreshed and healthy as a result.
Other contributing ingredients that add to the effectiveness of Ole Henriksen Invigorating Night Gel include a natural algae extract, used to add health to the skin with vitamins and minerals, and mucopolysaccharrides (natural sugars). The mucopolysaccharrides in Ole Henriksen gel are useful in giving the skin the power of deep hydration for a smooth, comfortable feeling of youthfulness and health.
Desiree Johnson, the esthetician at DrSkinSpa.com, says, "Ole Henriksen Invigorating Night Gel works overnight to wake up the body's natural repair system with its vitamins, minerals and alpha hydroxy acid complex. Face lightening and illumination is just one of the multiple advantages to this Ole Henriksen overnight repair gel."
DrSkinSpa.com is to go-to web site for its loyal customer base: those seeking quality, effective skincare products. The company keeps consumers well informed as to the latest innovations in top-of-the-line skin care solutions. The products selected for inclusion in the DrSkinSpa.com line have been developed, clinically tested, and found to be highly effective by dermatologists and estheticians. As a prime example, DrSkinSpa.com's mineral cosmetic line by Ageless Derma contains natural anti-inflammatories, and is made of only 100% pure minerals. Their mineral cosmetic products are also free of parabens. These Ageless Derma mineral cosmetic lines are safe for sensitive skin types and they offer sun defense that is UVA/UVB broad spectrum. Anti Aging Mineral Makeup both staves off and reduces wrinkles using Vitamins and Green Tea Extracts. All products are made in the United States and are not tested on animals.