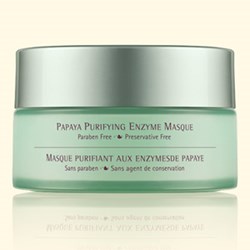 June Jacobs Papaya Purifying Enzyme Masque is free of parabens or preservatives.
Anaheim, CA (PRWEB) October 31, 2013
DrSkinSpa.com is an elitee-store providing skin care provisions for a huge variety of consumers' needs. Consumers are offered excellent anti-aging skin remedies and wrinkle products at this many-faceted web store. DrSkinSpa.com makes a wide array of skin care solutions available to the public, all of which have been carefully handpicked for their efficacies. The products are carefully chosen, with natural ingredients in addition to having the latest technological enhancements. The company is proud to present its latest addition of June Jacobs Papaya Purifying Enzyme Masque.
The June Jacobs Papaya Purifying Enzyme Masque lists one of its main key ingredients as papaya and papain. Papain is a proteolytic enzyme that comes from the papaya fruit. June Jacobs puts papain to work in this masque because it can melt away cross-linked collagen cells, thus speeding up skin cell turnover. Healing of skin begins in addition to it evening out black spots on the face and other signs of uneven pigmentation. The papaya extract in June Jacobs Papaya Purifying Enzyme Masque comes from Mexican papaya fruit. This June Jacobs ingredient contains a multitude of good elements for skin, and act as an anti-inflammatory and anti-oxidant.
Aside from the rejuvenating papaya ingredients in June Jacobs Papaya Purifying Enzyme Masque, there are other natural fruit extracts that can activate skin healing. June Jacobs includes mango extract from the Burmese tree in their masque for its vitamin C (good for lightening black spots on the face) and its omega fatty acids. Pineapple extracts from Paraguay are placed into the June Jacobs Papaya Purifying Enzyme Masque for their alpha hydroxyl acids and healing enzyme actions.
June Jacobs does not stop with fruit extracts, however. The June Jacobs Papaya Purifying Enzyme Masque also contains borage seed oil from the Mediterranean with its linoleic acid to recreate balance and skin tone. Sweet almond oil softens skin as it moisturizes it with vitamins, fatty acids, oleic and linoleic acids.
One more important, key ingredient in June Jacobs Papaya Purifying Enzyme Masque is Vitamin E, a lipid soluble vitamin. This natural, plant-derived vitamin has unique antioxidant properties and moisturizing abilities for the skin.
Other ingredients included in this June Jacobs enzyme masque include white, green and red tea extracts, goji berry, and pomegranate and grape seed extracts. This blend of antioxidants protects skin from environmental stressors and fights the signs of aging.
Desiree Johnson, the esthetician at DrSkinSpa.com, says, "June Jacobs Papaya Purifying Enzyme Masque is free of parabens or preservatives. This is quick-acting masque, needing only to stay on skin for 3 to 10 minutes, once or twice a week. Regular use of this June Jacobs product will release skin toxins and invite the natural oils of the product to penetrate and treat the skin more easily."
DrSkinSpa.com is dedicated to keeping consumers informed as regards the most current innovations in skin care and anti-aging products. The skin care products selected for DrSkinSpa.com have been developed, clinically tested, and reviewed by physicians and estheticians the world over to treat all types of skin care issues. DrSkinSpa.com offers their customers many reasons to shop at their site: their 14-day money-back guarantee, a new 120% price protection guarantee, and free shipping. This e-commerce site also has a skilled esthetician on hand for customers' inquires at no additional cost.