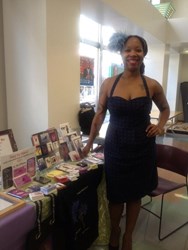 I can hardly believe it. One day the idea of a Black pinup girl-themed gift and stationery store was just a twinkle in my eye and three years later it's a full-fledged gift company
BROOKLYN, NY (PRWEB) October 15, 2013
The gals are as beautiful and saucy as ever as Black Pinup Girl-themed gift store Noir A-Go Go prepares to celebrate its third year in business.
"I can hardly believe it. One day the idea of a Black pinup girl-themed gift and stationery store was just a twinkle in my eye and three years later it's a full-fledged gift company," laughs K.C. Washington, the owner and designer of Noir A-Go Go.
Launched in January 2011 with the idea that something was missing from the beloved pinup girl genre, namely pinups of color while simultaneously indulging a love for stationery and tchotchkes, Washington got her business license, obtained an artist, set up a website, and opened the world's first and perhaps only Black pinup girl-themed gift store.
In the last 3 years, Noir A-Go Go has been profiled in online magazine Madame Noire, interviewed on both Mocha Chocolate Radio and Chicago Now by Six Brown Chicks Zondra Hughes, and carried by several stores in and outside of New York such as Exit 9 in Brooklyn and Pak Mail Anywhere in Fairburn, Georgia.
"It's been such an interesting experience," says Washington. "From teaching myself Photoshop to attending the Black Enterprise Small Business Conference in Chicago in 2012, I've learned so much but best of all three years later, I still love love love my gals and the products they grace."
Those products include bestselling compact mirrors and magnet, greeting cards and tote bags with pithy sayings such as "Trust Me Sugar, I've Overcome" and "Naughty Is The New Nice."
Washington has plans to extend the line across the country, add new images and sayings, plus new products such as coasters, calendars, journal covers, and more.
"This is such an untapped market I really believe that with time, smart marketing, and a little luck, I can turn Noir A-Go Go into the next Barbie."
Now how would that be for a birthday present!
About Owner and Designer K.C. Washington
K.C. launched Noir A-Go Go in January 2011, with the idea that something was missing within the American pinup girl genre, namely women of color. So she decided to put what she calls a sepia spin on the beloved genre and Noir A-Go Go was born. Convinced that the world is more than familiar with the image of African Americans fighting for their rights during the Civil Rights era, she wants to show another image from that time---one of glamour and wit. A Mellon Fellow and a novelist with a background in journalism and literary and historical fiction, K.C. has raised the curtain on a world of beautiful, empowered, stylish women (and a few men) and placed them on everything from magnets and tee shirts to tote bags and greeting cards, with more to come as she expands.