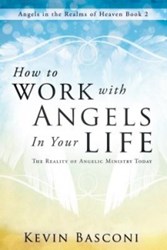 You will be amazed by these true events
Shippensburg, PA (PRWEB) October 08, 2013
Destiny Image and best-selling author, Kevin Basconi, are pleased to announced the release of the book, "How to Work with Angels in Your Life." This is the second book of the "Angels in the Realms of Heaven" series.
In his book, Basconi describes numerous heavenly places and various angelic beings and activities in the heavenly realms that are affecting your life on a daily basis.
"You will be amazed by these true events," said Basconi.
The reader travels to six continents and many nations during the author's journey about his and others' amazing angelic encounters and visitations of Jesus. Your life can be transformed as you learn how:

Angels work to answer your prayers and meet your daily needs;
To activate your ability to see and discover techniques to work with angels;
Angels are involved in miracles, healings and the approaching global outpourings of God's Spirit;
Jesus modeled angelic ministry and continues to employ angels today.
Interviews, review copies and giveaway copies are available upon request.
Basconi, and his wife, Kathy are ordinary people who love an extraordinary God. They co-founded King of Glory Ministries International. They have visited 30 nations preaching the gospel and demonstrating the Kingdom of God in churches, conferences, and crusade meetings. Many miracles, healings, signs and wonders that confirm the Word of God punctuate their ministry. They live in the mountains of North Carolina where they pursue a lifestyle of intimacy with Jesus. Basconi is an internationally published author, and award-winning artist.
Destiny Image, located in Shippensburg, Pa, was founded in 1983 by Pastor Don Nori, Sr. It seeks to accurately represent authors who have a call to share God's present word to His people and to make these authors easily accessible to the Christian body around the world in every form of media possible.
For press inquiries, interviews and review copies:
Kristen Adams
(717) 532-3040, Ext. 135
kadams(at)norimediagroup(dot)com