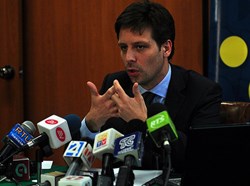 New York, NY (PRWEB) October 01, 2013
The New School will host an academic conference with the Ecuadorian Coordinating Secretary of Knowledge and Human Talent Dr. Guillaume Long. In the conference, titled "Ecuador's Citizens Revolution: Achievements, Choices and Challenges, Six Years On", Dr. Long will discuss the social and economic achievements of the current Ecuadorian administration, its increasingly relevant role in the international arena, as well as the challenges it faces, such as the environmental impact left by oil drilling operations in the Ecuadorian Amazon.
The event will take place this Thursday, October 3, 2013, from 12:00 pm to 1:00 pm at the Orozco Room (Room A712), Alvin Johnson/J.M. Kaplan Hall,
66 West 12th Street, New York, New York.
This event is free and open to the public. For more information contact universitypublicprograms(at)newschool(dot)edu, or contact(at)mc2pr(dot)com.
As a Senior State Secretary, Dr. Long oversees the Ministry of Education, the Ministry of Cultural Affairs, and other agencies across all levels of the country's education system. Dr. Long has been a professor on International Relations at the Latin American Faculty of Social Sciences (FLASCO) in Ecuador, professor of Latin American History at the Pontifical Catholic University of Ecuador (PUCE). In addition, Dr. Long has been a visiting professor in several local and international universities. He was also member of the Academic Council of the Institute of National Studies (IAEN).