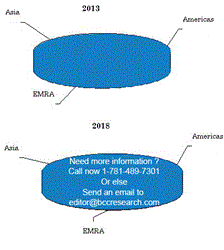 Wellesley, MA (PRWEB) October 03, 2013
According to a new technical market research report, Healthcare-Acquired Infections: Devices, Pharmaceuticals and Environmental Products from BCC Research (http://www.bccresearch.com), the global market for healthcare-acquired infections (HAI) treatments and products was valued at $12.3 billion in 2012 and is expected to reach $14.3 billion by 2013. BCC Research projects the market to grow to $21.3 billion in 2018, and register a five-year compound annual growth rate (CAGR) of 8.2% from 2013 to 2018.
Healthcare-acquired infections (HAI), including bacterial, viral and fungal pathogens, are the fifth-leading cause of death in developed countries. Bacterial, viral and fungal pathogens that colonize in patients after they have been hospitalized or are acquired during healthcare facility stays are considered HAI. Healthcare personnel who are exposed to these pathogens through direct, airborne or waterborne contamination are also vulnerable. Consequently, healthcare institutions are developing education strategies and materials on HAI prevention for all areas of personnel. Similarly, manufacturers continue to develop new products that specifically address HAI, while pharmaceutical companies are pursuing new or reformulated antibiotic and antiviral medications to avert resistance, and healthcare personnel are vigorously pursuing infection control techniques and reduce epidemic risk.
HAIs are significantly linked with antimicrobial resistance and healthcare researchers note that both must be addressed together. Control of HAI is linked to four practices, including following individual infection control protocols such as hand washing, judicious use of antibiotics and antivirals, consistent use of environmental cleaning treatments, and the use of equipment specifically designed to minimize HAI (e.g., antimicrobially coated catheters, coated endotracheal tubes, etc.).
The impact of HAI in developing countries has not been quantified as thoroughly as in developed countries. Although infectious diseases still cause the majority of deaths in developing countries, the surveillance systems for tracking infections within a healthcare facility setting are not as prevalent as in developed countries and offer only rudimentary information. HAI rates are stabilizing and in some cases decreasing in the United States and some Western European countries partly due to the increased control efforts by healthcare professionals and the availability of devices with specialized coatings that help in averting infections.
This new report from BCC Research provides an in-depth analysis and forecasts for selected areas of the global HAI market, from 2013 through 2018. It focuses on selected devices, pharmaceuticals, and environmental products currently used or under development for treatment of viral, bacterial, and fungal infections. In addition, this study discusses the structure of the HAI market and the opportunities available as well as its chief challenges. The report also presents information on the current and emerging markets, and provides comprehensive company profiles of key players in the market.
This report is designed to investigate the global HAI market by treatment area and by type of treatment, with supporting tables and figures to illustrate projected growth. Within each type of treatment, regional analyses will focus on the Americas (i.e., Canada, U.S., Mexico, Central America and South America); EMRA (i.e., Europe, the Middle East, Russia and Africa); and Asia (i.e., Japan, China, India, other Western Pacific countries such as Australia and New Zealand and other Southeast Asian countries).
This report is a valuable tool for anyone assessing the HAI market and attempting to devise a strategy to successfully compete in this market. It will be of benefit to business planners, acquisition specialists, licensing strategists, product managers, market research analysts, investing consultants, and others interested in the HAI market, its products, its participants, and its future.