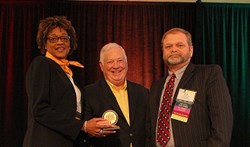 The results have been extremely well received by the graduates and a dramatic increase in understanding, retention, application, and transfer has been noted in summative evaluation results.
Minneapolis, MN (PRWEB) October 01, 2013
U.S. Army Soldier Support Institute (USASSI) at Fort Jackson in Columbia, S.C., recently was named a recipient of The Pike's Peak Performance Award for its efforts and results in redesigning over 600 hours of academic instruction.
The training team "transformed the curriculum from old outdated methods of instructor-centered instruction to new curriculum that is instructor-led, participant-centered which creates adaptive leaders who are confident and prepared to perform their human resources mission whenever needed in any strategic, operational, or tactical environment," explained L.Z. Harrison, Jr., supervisory, instructional systems specialist, in his nomination of the team. "The results have been extremely well received by the graduates and a dramatic increase in understanding, retention, application, and transfer has been noted in summative evaluation results."
Harrison accepted the award on behalf of the USASSI at an awards luncheon in Minneapolis on September 11, 2013.
Using the new instructional design skills and knowledge, the team conducted analysis through a comprehensive needs assessment that identified several issues that needed to be addressed during the redesign of the curriculum. The educational outcomes of the courses needed refocusing to ensure alignment with 21st Century Soldier Competencies and the Human Resources Core Competencies found in Army doctrine. Following the guidelines learned in Bob Pike training sessions and also found in TRADOC Pamphlet 525-8-2 (Army Learning Model or ALM), the new courses are now outcomes-based, experiential learning courses that apply the characteristics of a participant-centric learning environment.
"Throughout the courses, students use reflective, critical, and creative thinking skills while demonstrating the 21st Century Soldier Competencies to complete course requirements, including written and oral communication assignments, practical exercises, small group work, facilitated discussions, and homework. No longer is a student able to just show up and pass. The courses require the full engagement of the student from start to finish," Harrison explained.
"The results of the new participant-centered instruction have been dramatic," he added. "The course graduates have recognized the importance of this new training concept, as is indicated by their glowingly positive reactions in end of course surveys, such as 'This is the best course ever. Leaders across the Army are given the opportunity to voice their opinions and strategies that can assist other leaders.'
"Students have firmly embraced the new courses and provided great feedback to the leaders to ensure that the courses met the expected learner-centric environment espoused in ALM 2015 and in Bob Pike training. Additionally, both formative and summative evaluation has indicated a tremendous increase in understanding, retention, application, and transfer of critical job related tasks. Social media feedback from graduates to future students has focused on how much better the new courses are and how participant-centered instruction adds to the learning process."
The Pike's Peak Performance Award is a formal recognition of trainers or organizations who have transformed their training by implementing participant-centered, results-based techniques championed by Bob Pike. These techniques involve participants in their own learning instead of relying on an instructor-led, lecture-based format. The award recipients have demonstrated improved retention and training transfer in their sessions by implementing these methods as well as an increased tie-in to business objectives.
Fort Jackson employs almost 3,500 civilians and provides services for more than 46,000 retirees and their family members. An additional 10,000 students attend courses at the Soldier Support Institute, Armed Forces Chaplaincy Center, National Center for Credibility Assessment and Drill Sergeant School annually.
About The Bob Pike Group
The Bob Pike Group has provided train-the-trainer workshops and consulting services to individuals and corporations for more than 30 years. Clients have been applying Bob's Participant-Centered Instructional System to build their learning organizations, to strengthen retention and to enrich desired results. For more information, contact Denny Loving at 952-829-2647 or via email at dloving(at)BobPikeGroup(dot)com or visit http://www.BobPikeGroup.com.