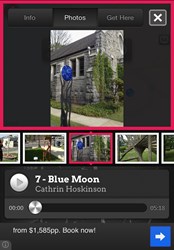 The feedback so far has been wonderful – with some people spending over 35 minutes in a single session learning more about the pieces, the artists, and the village.
Ossining, N.Y. (PRWEB) October 01, 2013
The Village of Ossining has announced a new mobile app and website that will transform how residents and visitors alike experience the many events and other activities the Village has to offer. A free Ossining in 3D app takes users on a virtual tour of the bicentennial sculpture exhibit narrated by the artists themselves. Powered by Otocast, LLC, the app is currently available for download in the iTunes store. An exciting new event-centric social networking platform, http://www.myPEPR.com, was also recently launched using Ossining and the surrounding New York metro area as its test market.
"Ossining in 3D" is a public arts exhibition created as part of the Village's yearlong bicentennial celebration. The pieces, located along a 1.5 mile walking route, will be on display until October 26, 2013. The new walking tour app includes audio commentary for each piece, allowing users to interact with and experience the exhibit in a deeper and more engaging manner. It is compatible with the iPhone, iPad and iPod touch.
"I have been working on a service related to site-specific, mobile audio tours for a while and was extremely fortunate to learn that my hometown of Ossining was planning an outdoor sculpture exhibit," said app creator Eric Feinstein of Otocast, LLC. "I believe that the audio commentary provides a deeper level of engagement with the pieces on the tour, whether they are sculptures, buildings, monuments – anything that someone might come across as they walk around."
Since the exhibit opened in May, thousands have weaved through the Village's historic buildings and downtown waterfront area along the sculpture route. Exhibiting artists come from across the northeast and beyond, with some using Ossining as their point of inspiration.
"The feedback so far has been wonderful – with some people spending over 35 minutes in a single session learning more about the pieces, the artists, and the village," said Feinstein. "For the Village, I think it's great to have people spend more time, learn more about what's happening, and maybe even grab lunch or dinner before they leave."
Another Ossining resident, Dr. Nitin Nayak, recently launched a new event-centric social networking platform featuring a number of events from the Village of Ossining's bicentennial calendar.
myPEPR (my Personal Event Planning Robot) not only makes it easier to find local events that fit your interests, it also identifies local friends who share those interests as well as mutually convenient times for you to attend events together. Users can have fun organizing each event, commenting and hearing their friends' comments, posting photos, and creating a diary of social activities to share with friends and family.
"Today's popular social networking platforms have been great for bringing people across the globe closer through online relationships," said myPEPR creator Dr. Nitin Nayak. "However, these platforms haven't necessarily brought people closer to their own neighbors, friends, and colleagues within their local communities. myPEPR leverages people's proximity to each other within a community and promotes meaningful, face-to-face interactions amongst local friends and acquaintances."
myPEPR also allows users to send out event invitations that serve as the wall for posting all event-related comments. Additionally, vendors and organizers can embed a PEPR it! link for each offering on their website and in newsletters, allowing readers to initiate a get-together with interested friends while reading about the offering or the event.
"Ossining and the surrounding area offers a lot of interesting activities, though many are not aware of all that's going on," said Nayak. "Hopefully, myPEPR will change that."
While the New York metro area was chosen as the ideal location to initially deploy myPEPR, both for its rich cultural environment and huge population, over time Nayak and his team plan to support as many communities as possible across the U.S. and beyond. "Promoting meaningful social interaction amongst local friends and neighbors is, after all, a need universal to all communities," said Nayak.
For additional information on the "Ossining in 3D" sculpture exhibit or other upcoming bicentennial events, visit http://www.celebrateossining.com, http://www.villageofossining.org, or contact the Village Manager's Office at 914-941-3554.
About the Village of Ossining
On April 2, 1813, the Village of Ossining became the first incorporated village in Westchester County to be state-chartered. Today, Ossining is a culturally diverse, affordable place to live, rich in both history and natural beauty. Approximately 25,600 people reside in the three and one half square miles of this historic Village on the Hudson River, which boasts extensive shopping, recreational programs, educational enrichment opportunities, and excellent municipal services. Ossining's role in New York's heritage has been recognized by its inclusion, as one of only 14 areas, in an Urban Cultural Park System designed to attract visitors to the State. With its Bicentennial anniversary in 2013, the Village of Ossining has launched "Ossining in 3D," a yearlong celebration of events designed to honor the Village's past while embracing its future. Visit http://www.villageofossining.org for more information.