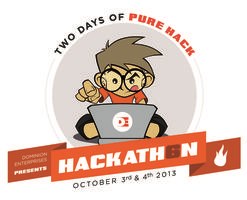 The idea is to create an environment where programmers and developers can get together to exchange ideas and develop technological breakthroughs.
Norfolk, VA (PRWEB) October 03, 2013
Over 36 intense hours, Dominion Enterprises employees and members of the computer programming community will participate in Dominion's sixth and most innovative "hackathon." The event will take place October 3-4 at Dominion's headquarters in Norfolk.
Like most hackathons, this event will challenge participants to create working computer programs and products. However, this time there is a twist -- the programmers must build products using several components called APIs to be drawn at random.
"This event will present interesting challenges to the competing teams," said Joe Fuller, vice president and chief information officer of Dominion Enterprises. "We're asking them to sign up for a hackathon without knowing what tools they're going to be given. They then must produce a working product in two days by mashing up APIs they may not have used before. That's the kind of test only the strongest programmers will even attempt."
Nine teams of up to six participants will begin the morning of Thursday, October 3 and continue through Friday, October 4. After this marathon programming session - being dubbed "two days of pure hack"-- the teams will present their creations to a panel of judges who will award prizes to the best products in four categories: Most Market-Ready, Most Innovative, Best Integration of APIs, and Best in Show.
Judges will include Dominion leaders Jack Ross, Joe Fuller and Erica Campbell, as well as notable local technophiles Zack Miller, Joe LaFond and Matt Paddock. All participants will receive gifts and be eligible to win books and other prizes. Winning teams in most categories will take home Raspberry Pi computer chips, and the team members earning Best in Show will win Nexus 7 tablets.
"The idea is to create an environment where programmers and developers can get together to exchange ideas and develop technological breakthroughs," said Fuller. "We believe events like these help position Dominion Enterprises as a leading technology developer and employer in Hampton Roads, as well as on a national level."
About Dominion Enterprises
Dominion Enterprises is a leading marketing services and publishing company serving the automotive, recreational and commercial vehicle, real estate, apartment rental, employment, parenting, and travel industries. The company's businesses provide a comprehensive suite of technology-based marketing solutions including Internet advertising, lead generation, customer relationship management, website design and hosting, and data management services.  The company has more than 45 market-leading websites reaching more than 20 million unique visitors monthly.  More than 77 million For Rent®, Employment Guide® and HotelCoupons.com® publications are distributed nationwide each year.  Headquartered in Norfolk, Virginia, the company has 3,300 employees in more than 145 offices in the United States, Canada, England, Spain and Italy. For more information, visit DominionEnterprises.com.
# # #