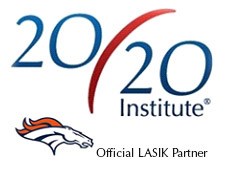 We are excited to be building fan participation for the Broncos and to thank those fans for their support.
Denver, CO (PRWEB) October 02, 2013
20/20 Institute, the official LASIK Partner of the Denver Broncos, announced their 2013 season VIP NFL experience fan prize giveaway. 20/20 Institute will award weekly Denver Broncos prizes ranging from United Club level game tickets at Sports Authority Field to team branded merchandise.
"This is an exciting year to be a Broncos' fan. The opportunity to expand our relationship with the Broncos organization and the fans is a wonderful thing," said 20/20 Institute CEO Dr. Mark Danzo, OD. "We are excited to be building fan participation for the Broncos and to thank those fans for their support."
To be eligible for a chance to win prizes, participants can visit http://www.2020giveaway.com and simply "like" or "follow" 20/20 Institute's Facebook page, Google+ page, or Twitter account. Giveaways start during the October 13 home game against the Jacksonville Jaguars. 20/20 Institute will give away two United Club level Denver Broncos tickets to each home game starting with the October 13 game. Home game opponents for this season include: the Washington Redskins, Kansas City Chiefs, Tennessee Titans, and San Diego Chargers. In addition, two home game winners will also receive field passes.
When the Broncos play away, the week's winners will receive VIP fan care packages with official Broncos merchandise. These packages will vary each week and may include an assortment of items such as Broncos branded apparel, car accessories, and home and tailgate supplies.
One drawing this season will award an exclusive, private stadium tour of the Sports Authority Field at Mile High, home of the Denver Broncos.
About 20/20 Institute
The Denver Lasik team at 20/20 Institute is devoted to providing patients with exceptional vision correction in a comfortable setting and focuses on three core principles: proven results, patient-centered care and Lasik specialists. The 20/20 Institute is a premier LASIK Eye Surgery provider in Denver with convenient locations in Englewood and Westminster. For more information visit the website at: http://www.2020institute.com/ or http://2020giveaway.com.