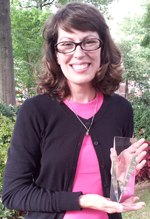 Chicago, IL (PRWEB) October 01, 2013
AHA Solutions, Inc., a subsidiary of the American Hospital Association (AHA), and the American Society for Healthcare Human Resources Administration (ASHHRA) today announce the 2013 Gary Willis Leadership (GWL) Award winner. This year's honoree is Michelle Rousseau, M.B.A., director of human resources for Terrebonne General Medical Center (TGMC) in Houma, La.
The GWL Award recognizes managers and directors who have made outstanding leadership and operations contributions to their organizations. In addition, it honors those who have demonstrated a commitment to participating in continuous educational opportunities that promote operational excellence. The GWL Award honors the memory of Gary Willis, an ASHHRA board member, who passed away in 2010 after a battle with cancer.
"Both AHA Solutions and ASHHRA have the utmost respect for people like Michelle who are devoted to advancing the health care human resources profession," said Anthony J. Burke, president and CEO of AHA Solutions. "The GWL Award is a tribute to their respective contributions to the field."
ASHHRA Executive Director Stephanie Drake said, "Health care human resources professionals earning the GWL Award should feel extremely proud and honored; it is a terrific achievement. The Award recognizes their contributions as living up to Gary's high expectations for himself. Gary was a leader and role model, and through this Award, both ASHHRA and AHA Solutions hope to inspire others to carry on his passion for and commitment to furthering the health care human resources field."
With 15 years' human resources (HR) experience, Rousseau worked her way through many leadership roles, including compensation specialist and HR data coordinator, representative and director. She has demonstrated her HR excellence by leading a cross-functional team in implementing a new HR/payroll information system that has automated, streamlined, and increased accuracy in pay and benefit policy management and applicant tracking. The improved system has also fostered better communication among hiring managers and applicants while reducing paperwork, staff administration time, errors and costs.
"Michelle has built a reputation of trust and respect throughout our organization," stated Dean J. Verret, C.P.A., M.B.A., vice president of financial services for TGMC. "Her desire for continuing education to bring efficiency and understanding to the medical center is valued. In addition to human resource expertise, her knowledge of information technology, combined with certification in Six Sigma improvement, has saved time and financial resources to benefit the organization."
Rousseau explained, "My mother and grandmother worked in health care, so they saw people every day who were making a difference in others' lives. I entered human resources to work with employees to help them make a difference, too. Today, as the health care field changes, HR is central to making our organizations more efficient. While technology is so important to streamlining processes, we cannot lose sight of what's at the other end of every technology: a person. Employees, patients, visitors, future employees — all are not at the same level of using that technology, nor do they have the same needs to be met by that technology."
Applications for the 2014 GWL Award can be submitted online beginning January 2014 at http://www.aha-solutions.org or http://www.ashhra.org.
About the AHA
The American Hospital Association (AHA) is a not-for-profit association of health care provider organizations and individuals that are committed to the improvement of health in their communities. The AHA is the national advocate for its members, who include nearly 5,000 member hospitals, health systems and other health care organizations and 43,000 individual members. Founded in 1898, the AHA provides education for health care leaders and is a source of information on health care issues and trends. Visit http://www.aha.org to learn more.
About ASHHRA
Founded in 1964, ASHHRA is a personal membership group of the American Hospital Association (AHA) and has more than 3,500 members nationwide. It leads the way for members to become more effective, valued, and credible leaders in health care human resources. As the foremost authority in health care human resources, it provides timely and critical support through research, learning and knowledge sharing, professional development, products and resources, and provides opportunities for networking and collaboration. For more information about ASHHRA, visit our website at http://www.ashhra.org.
About AHA Solutions
AHA Solutions, Inc. is a resource to hospitals pursuing operational excellence. As a subsidiary of the AHA, AHA Solutions collaborates with hospital leaders to identify key challenges the field faces. After conducting the proprietary AHA Signature Due Diligence Process™, we award the exclusive AHA Endorsement. As an AHA member service, AHA Solutions provides access to content experts and education to support product decision making, and convenes people with like interests for knowledge sharing that is centered on timely information and research.
AHA Solutions is proud to reinvest its profits in the AHA Mission: To advance the health of individuals and communities. For more information, contact AHA Solutions at 800.242.4677 or visit http://www.aha-solutions.org.