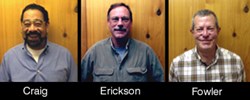 We are delighted that these individuals from Anderes Oil's management team will now play an integral part in Crowley's expansion plans in the area.
Anchorage, Alaska (PRWEB) October 01, 2013
Crowley's petroleum distribution group in Alaska has appointed Tom "TC" Craig as general manager, southeast Alaska, and charged him with leadership of a new business group created by the recent acquisitions of local fuel distributors Anderes Oil in Ketchikan and Taku Oil Sales in Juneau. The company has also named Jim Fowler as sales manager, southeast Alaska, and Tom Erickson as operations manager, Southeast Alaska. Both Fowler and Erickson will report to Craig and all three will be based in Ketchikan.
"We are delighted that these individuals from Anderes Oil's management team will now play an integral part in Crowley's expansion plans in the area," said Bob Cox, vice president, petroleum distribution. "Crowley seeks to leverage our substantial resources to support local fuel sales in Juneau and Ketchikan, continuing the tradition of great service by the Anderes and Taku staff in these communities."
All three men bring a wealth of knowledge and experience to the Crowley team. Craig has a strong financial background with added management, sales and marketing skills. He served Anderes Oil as controller for 13 years where he was responsible for all aspects of financial reporting. He also handled the company's human resources duties including employee benefits, compliance and retirement records. His experience prior to Anderes Oil includes 10 years with Construction Machinery, Inc. as the Ketchikan branch manager and later vice president of operations for the Pacific Northwest. Also notable are Craig's positions as chief financial officer for Coastal Machinery, Inc. and controller for both Wrangell Forest Products and Westflight Aviation/Temsco Aviation.
Fowler spent seven years with Anderes Oil as operations manager where he was responsible for sales, marketing and public relations, inventory management and training. He also held marketing responsibilities for SYSCO Food of Seattle and Tongass Freight Service and was the merchandising director for Williams Inc. in Ketchikan.
Erickson spent 35 years with Anderes Oil including the last 17 years as plant manager where he provided acquisition support; planning and implementation of plant upgrades and maintenance; facility security and day-to-day management of plant employees. Prior to his position as plant manager, Erickson served the company in varying capacities including marina attendant, fuel delivery driver, mechanic, welder, dispatcher and sales. He is currently board president for the Southeast Alaska Petroleum Resource Organization (SEAPRO).
Crowley currently operates 22 fuel terminals in western Alaska and the rail belt, with over 265 employees. The acquisition of Taku Oil Sales in Juneau, Alaska, was the second of a southeast Alaska fuel distributor in as many months. The company acquired Anderes Oil in Ketchikan on July 1.
Crowley continues to position itself as a leader in the Alaska fuel industry, providing transportation, distribution and sales of petroleum products to more than 280 communities across Alaska. Crowley supports the energy industry on the North Slope with summer sealifts of large production modules and various marine transportation services. At the southern terminus of the trans-Alaska oil pipeline, Crowley provides tanker escort and docking services in Valdez Harbor and Prince William Sound for Alyeska Pipeline Service Company's Ship Escort/Response Vessel System, utilizing some of the most technologically advanced and powerful tugboats in the world. To learn more about Crowley in Alaska, visit: http://www.crowleyalaska.com.
To learn more about Crowley Maritime Corporation, the 121-year-old, privately held company providing project solutions, transportation and logistics services around the world, please visit: http://www.crowley.com.