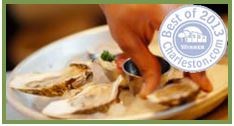 If you want some great local seafood in a casual and hip environment, Pearlz Oyster Bar is the place to go.
Charleston, South Carolina (PRWEB) October 01, 2013
Seafood is a staple in Charleston, for locals and for tourists alike. From oysters to jumbo shrimp, salmon burgers to crab cakes, you can't leave Charleston without tasting some of the freshest seafood in the south. But you might be asking where to begin? Rest easy, because Charleston.com is here to help with this vexing decision.
In August, Charleston.com posed a challenge to its readers to choose one of fourteen prominent seafood restaurants in the area, and deem it king over all others. The following eateries were in the running for the title of Charleston.com's Best Seafood Restaurant of 2013:

Amen Street
Blossom
BLU Restaurant & Bar
Bowens Island Restaurant
Coast
Cypress
Fish Restaurant
Fleet Landing
Hank's Seafood Restaurant
Hyman's Seafood
Pearlz
Red's Ice House
Shem Creek Bar & Grill
Water's Edge Restaurant
Our readers came together by the masses and cast their votes, as the Charleston.com staff waited in anticipation. We've counted them all up, and it's time to announce Charleston.com's Best Seafood Restaurant of 2013.
And the honor goes to...Pearlz Oyster Bar!
Pearlz Oyster Bar is committed to serving only the best seafood South Carolina has to offer. Their seafood menu features an assorted mix of raw shellfish, local seafood, Lowcountry recipes, and regional favorites. Their raw bar offers a variety of oysters and fresh seasonal shellfish. Pearlz also features a full-service bar with the coldest beers and unique, refreshing cocktails, Pearlz has become a favorite happy hour meeting spot for both locals and visitors alike.
Profile writer for Charleston.com, David Corley, says, "If you want some great local seafood in a casual and hip environment, Pearlz Oyster Bar is the place to go! Pearlz offers an assortment of fresh local seafood and touts the reputation as being the best raw bar around."
But Pearlz Oyster Bar's commitment to great seafood doesn't stop at serving up the best cuisine. Pearlz is also doing their part to help the planet as a part of the Sustainable Seafood Initiative, which helps ensure that consumers have fish for the future by balancing the needs of the environment with the world population's need for seafood. The SSI's mission and belief is that we have the ability and duty as consumers to lessen our impact on the oceans by making wise seafood choices and encouraging improvement of fishing and fish-farming methods.
Charleston.com offers a big congratulations to Pearlz Oyster Bar! Visit Charleston.com's Best of 2013 page next week to see the results of September's category for the best southern specialty restaurant.
About Charleston.com
Charleston.com is the best destination for planning your stay in Charleston, South Carolina. Research and book your accommodations, read about the best restaurants, schedule a tour, and see an extensive calendar of events and attractions in the various neighborhoods throughout the greater Charleston area. Charleston.com recently published its Best of 2013 list with an easy to use map of the winning attractions and eateries. From coffee shops, to tours, to hotels and pubs, the best of the best is at Charleston.com. Additionally, visitors can find plenty of information on golf destinations, weddings, and real estate in Charleston.
Charleston.com offers affordable, effective, localized exposure online for businesses in the Charleston area. Local businesses can claim their business to enhance their visibility and optimize their business goals at http://www.charleston.com/business. Charleston.com brings the excitement and experiences of Charleston to digital. Charleston.com is owned by Charleston.com, LLC and is managed and operated by GeoPlatforms.com LLC. For more information, visit us at http://www.charleston.com.