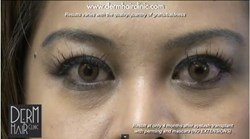 Los Angeles, California (PRWEB) November 04, 2013
The desire for longer, fuller eyelashes has led to the development of various products and services such as:

Prescription solutions for growth
Lash extensions
False lashes
Also, mascaras can thicken fine hairs, making them appear more full and prominent. But it is ideal to have one's own hairs grow to longer lengths, without the need for an ongoing regimen, as this can be quite expensive in the long term.
As a leading hair restoration specialist, Dr. Umar applies his skills and proprietary uGraft instruments to make long lashes a reality. Recently, his clinic documented a new video case study featuring one of his patients and her results at four months.
Choosing an Eyelash Hair Transplant Procedure
Dr. Umar's patient struggled with having short eyelashes. The problem worsened through the continuous use of lash extensions, which pulled her existing hairs. Also they were quite expensive to maintain.
An eyelash restoration procedure was the best course of action for her to take. Many individuals who face similar challenges may also find that surgery meets their needs better than regular lash extension services. Not only are they costly, but may irritate the eyes as well.
Eyelash Transplant With Advanced Follicular Unit Extraction
Dr. Umar performs eyelash restoration using an advanced form of Follicular Unit Extraction. Instead of taking hairs from the main areas of the head, he uses his uGraft tool to harvest follicles from the nape. These hairs closely match the thickness of real eyelashes.
Nape and other types of non-conventional hair will grow at very sharp angles. It becomes difficult to position punch tools accurately, as misalignments can damage the follicles. UGraft instruments are designed with special mechanisms to safely separate various types of follicles from their environment.
Also the punch units of uGraft are customized to leave exceptionally flawless wound healing results.
Patient Results at Four Months
Dr. Umar's patient experienced wonderful growth at four months following her surgery. Continued improvements are expected to manifest.She was quite pleased that she finally had the length that she wanted from her own lashes.
Here is a link to the patient's video- Click here.
As a final note, transplanted hair will continue to grow and behave as they did originally. Therefore, implanted lashes will need to be trimmed. They may also need to be manually curled as well.