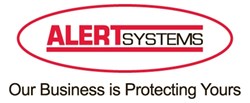 Installing security systems on your premises can not only act as a crime preventative, but can be essential in providing information to police
(PRWEB UK) 1 October 2013
According to the York Press on September 24 in the article titled 'CCTV Images Following Stonegate Break-In Attempt', police have released two images of men they wish to identify after an alleged attempted robbery at a jewellery shop in Stonegate.
According to the report, it is believed that the individuals involved used a ladder to gain entry to a room on the first floor of the property. It is also thought that the sounding of the business' security alarm sounded meant that the individuals left without taking any items. The men featured in the CCTV are described as being in their mid-twenties, with one wearing jeans and a dark patterned sweatshirt, and the other wearing a similar sweatshirt and tracksuit bottoms with possible paint stains.
AlertSystems are renowned for their security systems and as experts in the industry they understand the importance of installing such systems on the premises of businesses. A spokesperson shared their thoughts on the recent news:
"This recent news story highlights the importance of installing sufficient security systems in your business. In this case, the alarm system on the business' premises may have been responsible for causing the individuals to fail in their attempts to take items from the store. The presence of a CCTV security system has also enabled the police to use this information in an appeal for information.
Installing security systems on your premises can not only act as a crime preventative, but can be essential in providing information to police so their investigations can be drawn to a successful conclusion."
AlertSystems manage and maintain over 5000 security installations throughout the UK and are specialists in providing business security solutions. Offering professional service and a complete range of security services such as monitored alarm systems, Automatic Number Plate Recognition and Avigilon CCTV security systems. AlertSystems offers effective and reliable solutions to security problems.