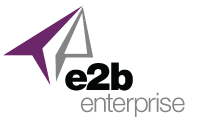 "I don't understand why someone would pay for a system like ACT! when they could be spending the same amount of money on a solution that offers way more features, is easier to use, and looks so much better."
Chardon, Ohio (PRWEB) October 02, 2013
The content management system formerly known as Sage ACT! was acquired by Swiftpage this past February (more information here) and now goes simply by the product name, ACT!. The new webinar from e2b teknologies, "Sugar Features That ACT Users will Love," is among the first reviews to compare SugarCRM against ACT! Since its new management under Swiftpage. Although much of the ACT! Product remains the same; there have been changes to the way ACT! is managed and its overall vision.
e2b teknologies took a 30 day trial of ACT! in order to accurately contrast it against SugarCRM. The result is a short, 10 minute webinar that highlights features of Sugar CRM that ACT! users will fall head-over-heels for. Even after ACT!'s switch in management and development, it still lacks a lot of the features that should be found in a strong CRM solution. For CRM solutions that fit into the lower end price bracket, Sugar is one of the closest solutions to ACT! In terms of cost; However, Sugar provides a return on that cost which is far greater. This webinar covers the most salient aspects of modern CRM; topics such as hosting options, workflow, reporting, marketing and more. Features which are virtually non-existent in ACT! yet come with the same price tag in Sugar.
"I found ACT! is able to do many of the simple things that most CRM solutions can do, but there is nothing to really differentiate it in the CRM market," said Josh Bailey, host of the webinar. "I don't understand why someone would pay for a system like ACT! when they could be spending the same amount of money on a solution that offers many more features, is easier to use, and looks so much better."
The slide deck for the webinar is available on SlideShare and a recording of the webinar can be viewed on YouTube.
About e2b teknologies
e2b teknologies (e2btek.com) is a Microsoft Managed Partner providing cloud-based business software applications and business services to progressive businesses worldwide. e2b anytime apps (e2banytime.com) is the publisher of Anytime Supply Chain enterprise-class supply chain management software, Anytime Collect credit and collections management software, Anytime Commerce B2B ecommerce platform, , and related Anytime brand products. e2b enterprise (e2benterprise.com) develops custom cloud-based business applications and resells leading ERP accounting software, CRM, and other enterprise business software applications.