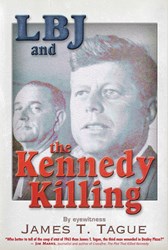 "Who better to tell of the coup d'etat of 1963 than James T. Tague, the third man wounded in Dealey Plaza?" — Jim Marrs, journalist and author of Crossfire: The Plot That Killed Kennedy
Walterville, OR (PRWEB) October 01, 2013
This is unlike any other book about the assassination of President John F. Kennedy. The author, James Tague, was there, and he was wounded by the debris from a missed shot on that fateful day. He stood up to our Government when the Warren Commission was about to ignore what really happened and spoke to the true facts.
James Tague's testimony changed history and the "magic bullet" was born in an effort by the Warren Commission to wrongly explain all the wounds to President Kennedy and Governor Connally, and to try and convince the public that Lee Harvey Oswald was the "lone nut assassin."
Tague, a long time Dallas area resident, initially believed the Warren Report, but time, diligent research and amazing revelations told to him by prominent Texans has given James Tague an inside look at what really happened.
"Be prepared to learn new facts, never before published, about one of our nation's darkest moments."
"I have known Jim Tague for more than thirty years. He is a historic figure in the study of the assassination of President Kennedy. His story of the events in Dealey Plaza has not changed in all these years and his being wounded by a stray shot truly changed the course of the investigation of the crime of the century. This new book will open the eyes of many people who have heard the several misinterpretations of Jim's story. Here he sets the record straight. His face wound occurred at the end of the shooting, and not at the beginning. As you will see, this makes a massive difference."
"This book is a must read for any student of the assassination. If you believe the Warren Report fiction now, you will not after reading this book."
— Robert Groden, Staff Photographic Consultant to the House Select Committee on Assassinations, Washington, DC, and author of The Killing of a President: The Complete Photographic Record of the JFK Assassination, The Search for Lee Harvey Oswald: A Comprehensive Photographic Record, and High Treason: The Assassination of President John F. Kennedy: What Really Happened.
James T. Tague spent 5 years in the Air Force, had a career in the automobile business rising to top management and is today recognized as a top researcher on the Kennedy assassination. It was an accident of timing that he was in Dealey Plaza that November day in 1963 and received a minor injury during the assassination of President Kennedy. But it was no accident that James Tague spoke up 6 months later when the Warren Commission was about to ignore the missed shot – his testimony changed history. More info at jTague.com
Mr. Tague is available for limited interviews in the United States.
Please contact: Kris Millegan, Publisher, TrineDay, at (800) 556-2012 or publisher(at)trineday(dot)net.