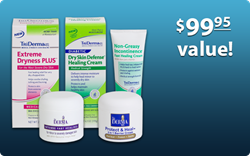 Neenah, WI (PRWEB) October 02, 2013
As part of its "Helping You Get On With Life" monthly sweepstakes, The CareGiver Partnership is giving away a bundle of products designed to keep senior skin healthy, says Lynn Wilson, founder of the national retailer of incontinence products and home health care supplies.
"Skin care becomes even more important as we age, because when skin becomes thinner and less elastic, it becomes prone to injury and infection," Wilson says. "When a senior is managing diabetes or incontinence, keeping skin clean, moisturized and protected is imperative."
Wilson says she put together the October prize package for every senior, from those managing medical conditions to those who just want to avoid the dry, itchy skin that often accompanies the winter months. The prize package, valued at $99.95, contains the following TriDerma products:

Extreme Dryness PLUS (2.2 oz. tube), a medical-strength formula that delivers intense moisture to chapped, cracked skin and reinforces its natural protective barrier.
Diabetic Dry Skin Defense Healing Cream (2.2 oz. tube), intense moisturizing to help heal minor to severely dry diabetic skin.
Non-Greasy Incontinence Fast Healing Cream (4 oz. tube), to heal irritated skin and rashes and protect against wetness and chafing.
Intense Fast Healing Cream (4 oz. jar), an all-purpose cream that soothes, protects and heals minor to severely damaged skin, including burns.
Protect & Heal 3-in-1 Barrier Cream (4 oz. jar), a non-greasy formula with five times more healing power than traditional barrier creams.
To enter the sweepstakes, participants need only e-mail or mail a short statement explaining why the prize would be useful to him or her or a loved one. The CareGiver Partnership will accept entries through Oct. 31. The winner will be notified the first week of November, which is also National Healthy Skin Month as recognized by the American Academy of Dermatology.
The CareGiver Partnership created the "Helping You Get On With Life" monthly sweepstakes to raise awareness of products and services that help seniors live independently and make caregivers' jobs easier. To enter or learn more, visit the "Helping You Get On With Life" sweepstakes page.
TriDerma makes products designed to heal and relieve problem skin of all ages. Its formulas contain organically grown, biologically active healing ingredients combined with clinically proven medical-strength ingredients.
The CareGiver Partnership is a national direct-to-consumer retailer of home healthcare products for incontinence, diabetes, nutrition support and more. In its seventh year of providing products and services that help caregivers and loved ones maintain personal dignity, the company also offers an online library of more than 1,500 family caregiver resources and personal service by experts in caregiving. Call 1-800-985-1353 or visit online at http://www.caregiverpartnership.com.